5 Content Ideas For Your Debt Collection Agency's Social Media Account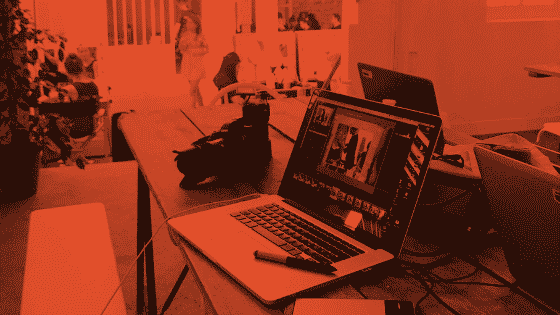 Start Making More Calls Today
Not sure which solution would be the best fit for your needs? We can work with you to find a solution that's right for your business.
get a free quote
If this is your first time visiting our website, allow us to introduce ourselves: We believe in the power of brand building on social media.
Social media has been an invaluable tool for us to reach and engage our community, without having to necessarily seek it out.
It's a way for our brand voice and tone to go before us, communicating who we are, what we believe, and  what we value.
Finally, it's been a recruiting tool. Many current employees cite our social media as a way they familiarized themselves with what it's like to work here.
Now do you see why we love social media so much?
If you are not using social media right now, we understand why.
As far as the industry is concerned, it might feel like another place to get burned, judged or unfairly attacked.
In 2022, it's a whole new world for social media in debt collection.
Many agencies are trailblazing a path for the industry on social media, taking ownership over their presence and their engagement with consumers.
If you don't have a dedicated marketing team or content creator, however, it can feel like a huge undertaking to start investing in social media.
How Do You Come Up With Content Ideas For Your Social Media Account?
If we're being totally honest, getting set up with social media accounts is the easy part.
The hard part is finding new and engaging content to post on a regular basis. 
That's why you came to this blog in the first place, right?
We're going to share five content ideas for social media  that can be turned into graphics, videos, and even ongoing series:
If you're ready to start posting on social media but just need a little creative juice to get your content flowing, you're in the right place.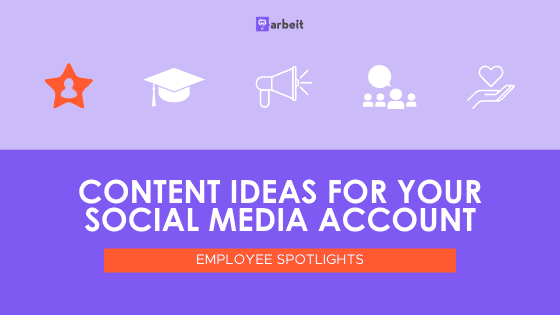 Content Ideas for Social Media: Employee Spotlight
A great place to start on your social media account is to celebrate the employees who make your company what it is.
You can do this in a few different formats:
Post about an employee reaching a certain achievement or celebrating an anniversary with you (i.e. one year of employment.)
Post a static image of your employee and ask them to share a fun fact about themselves, or something they love about working for your company.
Ask your employee to film a video answering a few questions about who they are, what they do, and some fun questions sprinkled in. Here's an example of what that can look like: 
If you choose to go this route, you'll get an ongoing bank of content to pull from. You might also get happier employees.
It feels good to see yourself being celebrated on a public platform, and it may even spur your agents to share your company's content to their personal page and communities.
One quick tip for this type of content: Make sure you get permission first 🙂
Content Ideas for Social Media: Educating Consumers
One of the best ways to establish a positive reputation is by becoming a go-to resource for every corner of your community.
This is something we have been doing for years through our YouTube channel, Arbeit U.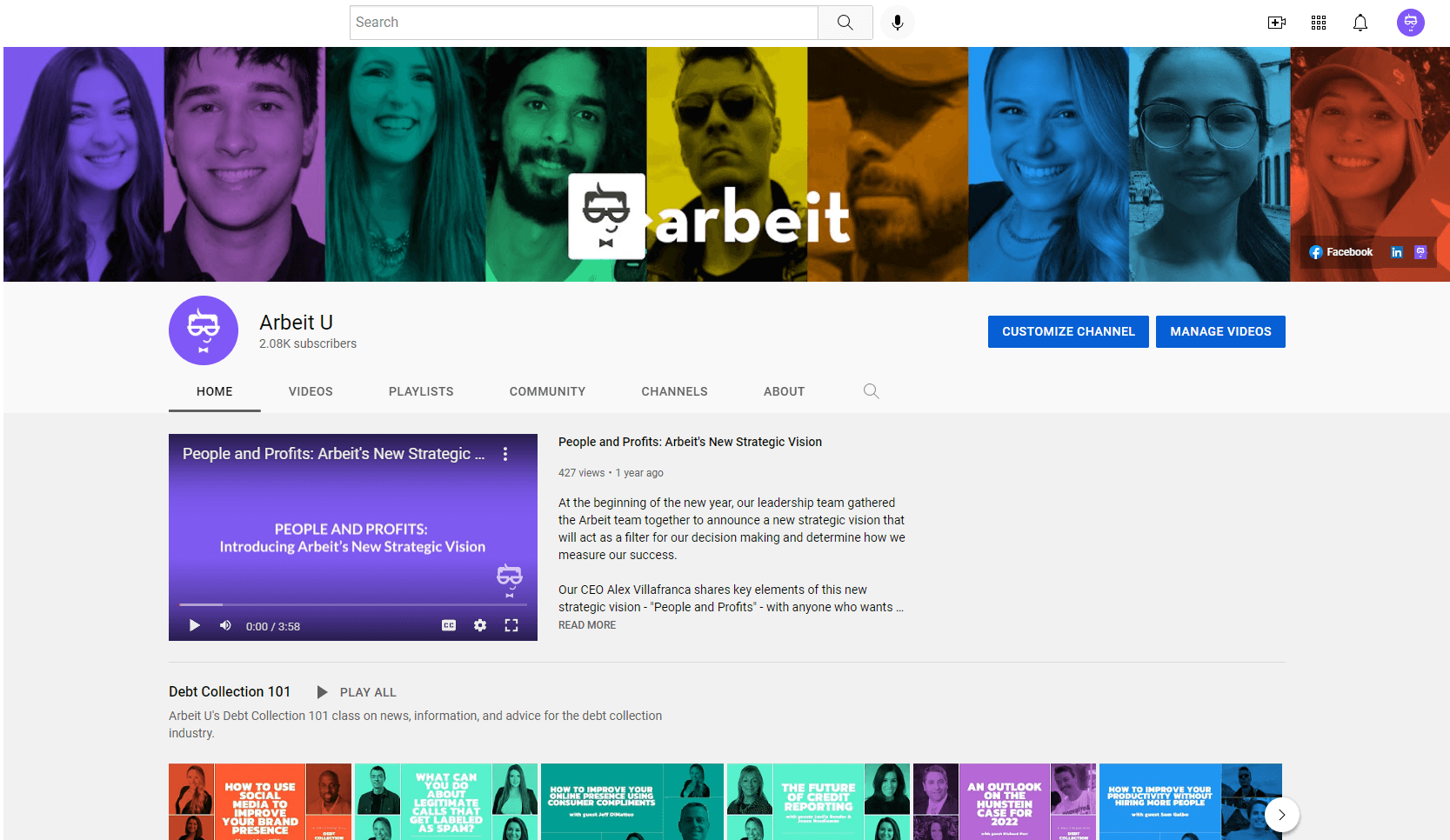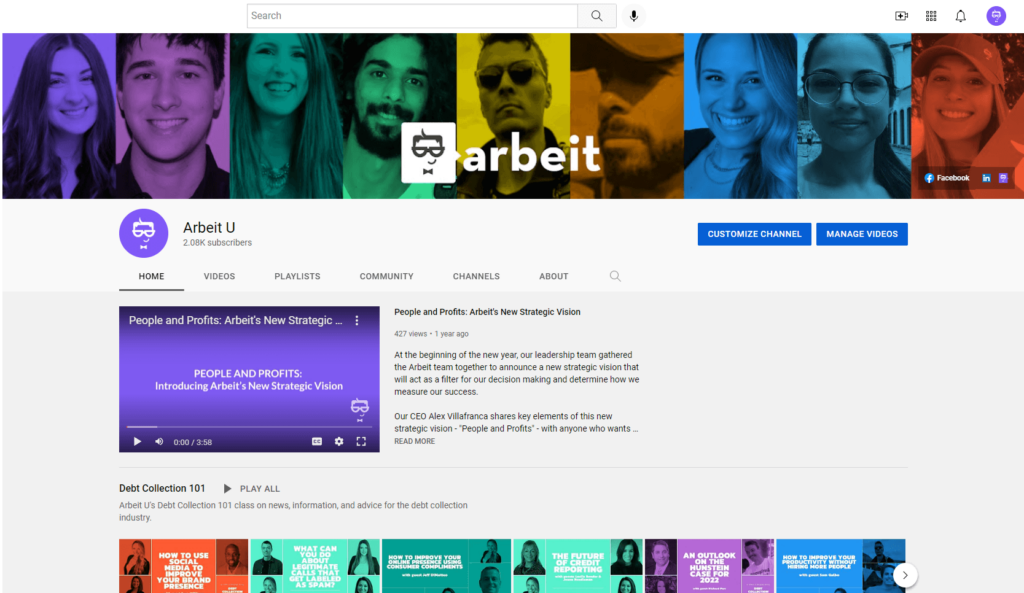 You can choose what niche you want to dive deep into, and once you have established the topic(s) you want to talk about, you can establish yourself as a true thought leader and expert in that field.
Publish videos, create infographics, write articles – the options are endless and can create a constant stream of content for your social media channels.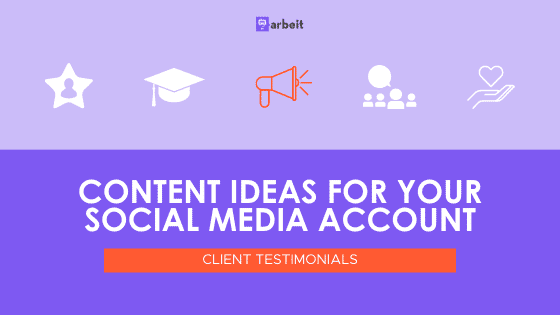 Content Ideas for Social Media: Client Testimonials
There has never been a better time to call on your happy clients for social media content.
Social proof is one of the most effective tools to promote your brand on social media.
If you are looking for an agency to draw inspiration from for this topic, American Profit Recovery has been doing this very well for years.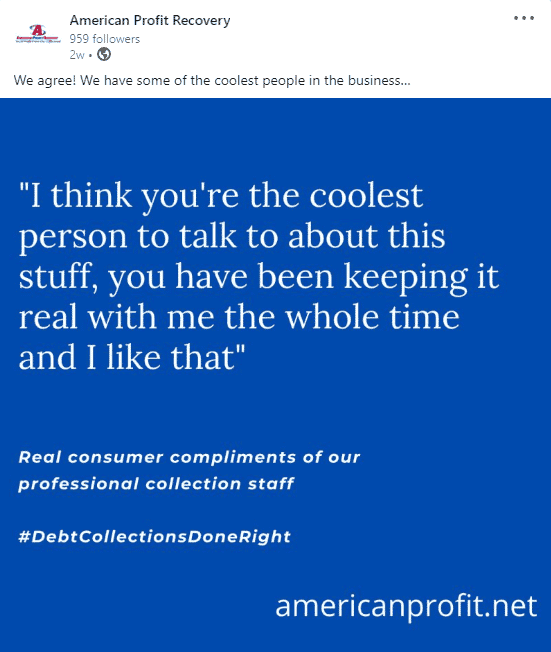 American Profit Recovery collects reviews and compliments from both clients and consumers. By doing this, they are advancing their brand for potential new clients as well as consumers who may be hearing from them for the first time.

Not only is this massively helpful for your brand presence, it's also an infinite resource.
You can even incentivize consumers or clients to leave these reviews, or use a Google My Business account to collect them.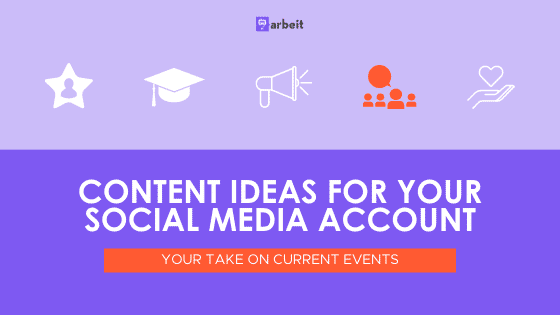 Content Ideas for Social Media: Your Take On Current Events
The debt collection industry is a tight knit community. Perhaps this is because it is one of the most regulated industries to work in, and in order to survive as an agency, you need the support of your community.
One of the best ways to embrace and immerse yourself in this community is to pay attention to what is going on and start a conversation about it.
Here is an example of what this can look like from TrueAccord.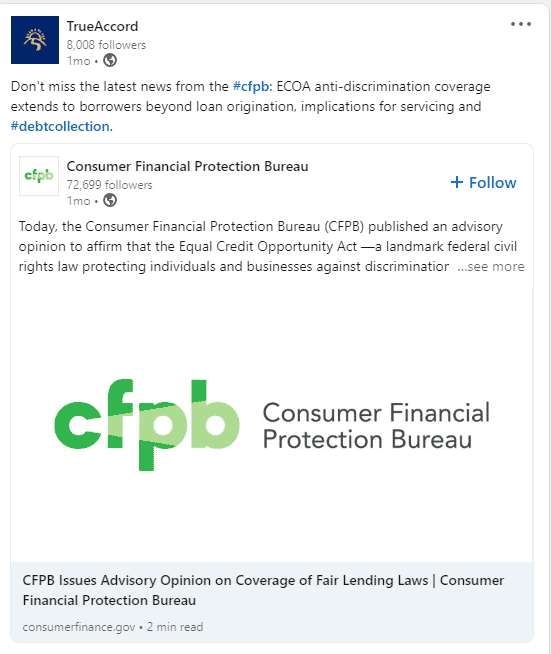 Taking notice of current events in the debt collection industry, and investing in the implications of them, has a few different benefits:
Legitimizing your agency in the eyes of clients and consumers alike
Helping you find your community within the industry
Advocating on behalf of your peers in the industry
If you aren't sure where to start finding current events to post about, start with: AccountsRecovery.net, InsideARM, TCPAWorld and ACA International.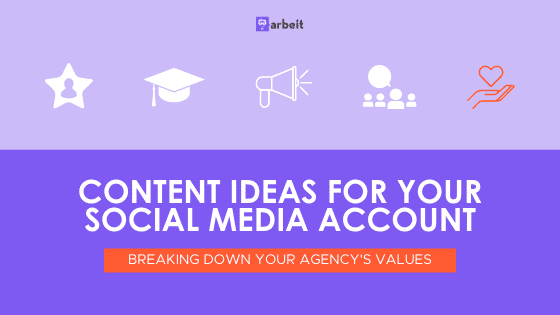 Content Ideas for Social Media: Breaking Down Your Agency's Values
A final content idea for social media is to walk your community through your agency's values.
Choose a few words that you believe represent the core of your agency and what you are trying to accomplish. Then, choose someone from your team to explain why you chose that word, and how you incorporate it into your day-to-day operation.
Debt Recovery Solutions of Ohio does this perfectly: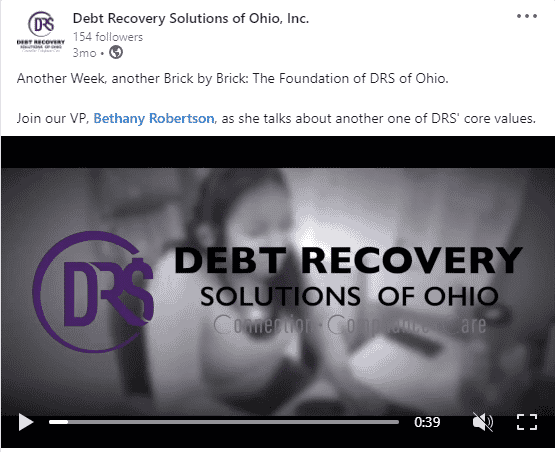 You'll be able to get in front of potential clients who may be searching for an agency whose values align with their own.
You'll also be able to get in front of consumers who may be timid about contacting you to resolve their debt or set up a payment plan.
Want To Talk Social Media?
It's one of our favorite things to talk about!
Book a meeting below if you want to chat about the how, why and what of social media.