Should You Use the Limited Content Message?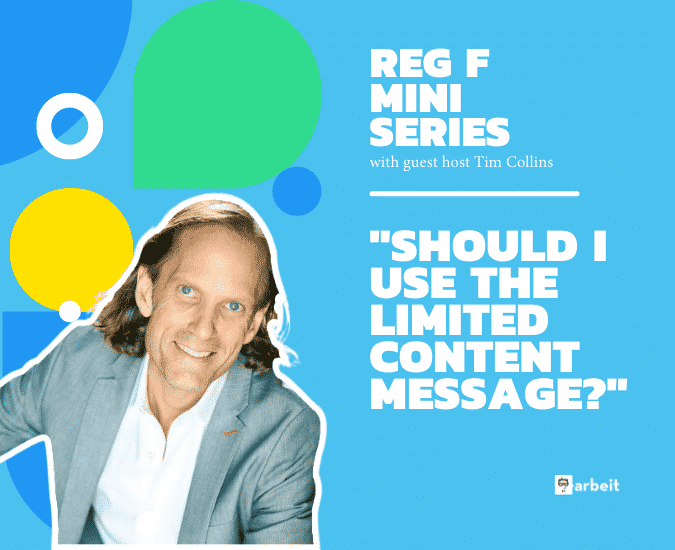 Start Making More Calls Today
Not sure which solution would be the best fit for your needs? We can work with you to find a solution that's right for your business.
get a free quote
Reg F. The CFPB's new rules. That document we're all obsessed with right now.
If you work in or adjacent to debt collection, these are loaded terms.
The deadline to comply with these rules is Nov. 30 (or was Nov. 30, depending on when you're reading this.)
We wanted to make sure our most burning questions about the rule were answered by an expert. Cue our good friend Tim Collins, Chief Customer Officer at Indebted and debt collection compliance expert.
Tim discussed six topics surrounding Reg F in detail, and we'll be releasing them in the days leading up to the Nov. 30 deadline, starting today – with the Limited Content Message.
You most likely know what the LCM is (click here if you need a refresher!) so we turned our attention to a different question – should you actually use it?
Watch or read below as Tim addresses the first question in our Reg F mini series: Should You Use the Limited Content Message?
Should You Use the Limited Content Message?
The first thing to note is that like much of Reg F, this is not a mandate, but rather a safe harbor.
With that, Tim recommends asking yourself two main questions to determine whether or not you should take advantage of the safe harbor.
Question 1: Do you see a lot of litigation as it relates to the messages you're using?
If you're seeing a lot of that, or anticipate litigation as plaintiff lawyers adjust their tactics, maybe the limited content message is a good place start.
Question 2: What is the cost to switch to using the Limited Content Message?
If you're going to change your messaging, keep in mind it will come with some significant costs:
Agent training
System upgrades
Audit programs
Policies and procedures
Another cost to consider is the cost to rebrand your agency. The limited content message does not allow you to disclose you are a debt collection agency, and many agencies have names that in some way disclose that information.
A rebrand comes with its own costs, for example: licensing, a website, your domain name, etc.
First, conduct a cost-benefit analysis based on the above question.
Another way to use data to support your decision is to conduct an "experiment" and measure your data closely.
For one week, don't leave any messages to consumers. The next week, use the limited content message. The next week, use the Zortman message. See what your callbacks are and go from there.
What it really comes down to, explains Tim, is risk. Not regulatory risk – the CPFB has created this as a safe harbor – but litigation risk.
If you experience a high volume of litigation risk, the limited content message offers a solution. If not, it might be best to continue with your current strategy and adjust if needed.
*This information does not, and is not intended to, constitute legal advice; instead, all information is for general informational purposes only.