This Is How a 3-Second Pause Kills Live Contact and Invites a Lawsuit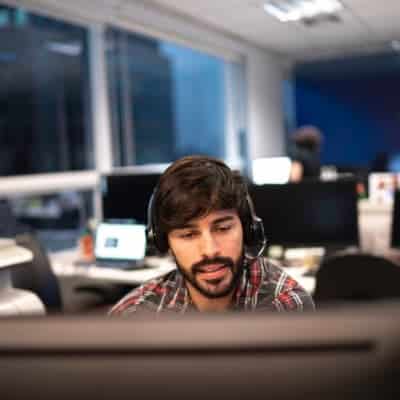 Start Making More Calls Today
Not sure which solution would be the best fit for your needs? We can work with you to find a solution that's right for your business.
get a free quote
Let's all imagine ourselves, with our busy schedules, and our general disdain for speaking on the phone to people we don't know, getting a phone call from a number we don't recognize. We groan, but we answer.
"Hello?"
*Silence.*
"Hello?"
*Silence.*
What do we do? Coupled with the fact that it's an unknown number, I'm hanging up. Speaking from my own experience, the sound of my phone ringing alone is enough to make me cringe. But if I answer and hear silence on the other line…
Let's Turn to the Numbers
Maybe you have had more positive experiences with unknown numbers than I. Maybe you've won a contest by answering the call and waiting til you heard a voice. But maybe you're like me, and you are immediately turned off by silence on the other line.
I wanted to find out the real numbers, so I turned to the internet to find out. We conducted our own study, and here are the results: 
According to the research, 75 percent of people who hear three seconds of silence on the other line after saying "Hello?" said they do not wait to find out who it is. They hang up.
So here's what that means in practice.
How You Kill Live Contact
If you are using software that has not eliminated the 3 second pause from every dial, you are losing 75 percent of your opportunities to collect on an account. That's 75 out of every 100 calls. That means only one fourth of your calls have any bearing whatsoever. 
You are neglecting 75 percent of your target market when you use software that has not removed the 3 second pause. But there's an even more dangerous result: you're inviting a lawsuit.
How You Invite a Lawsuit
"If not recorded, is there a pause when you answer before being connected to a live operator?"
This is a question commonly asked by lawyers when they are trying to determine if the call you received was a robocall.
In other words, lawyers are looking for the 3 second pause and if they hear it, they know they will have a better chance at winning a lawsuit. Don't believe us? Let's look at a few examples.
Lawsuits Referencing the 3-Second Pause
Killman v. Educational Credit Management Corporation 
"Each time plaintiff answers a call from defendant, there is a pause before the plaintiff is connected to a live person."
This excerpt was used as incriminating evidence against the defendant in this lawsuit. The pause indicated that an autodialer was used and according to the TCPA, calls from an autodialer to a cellphone without prior agreement are non-compliant and can land you a lawsuit.
Toric v. Fingerhut
"When the plaintiff answered calls, she heard silence and had to wait on line to be connected to the next available representative."
Once again, in this case, the defendant's calls were monitored for the 3 second pause. This pause led legal representatives to determine an autodialer was used.
Ward v. Collection Bureau of America
"Defendants telephone system has the earmark of using an ATDS and/or using robocalls in that plaintiff, upon answering calls from the defendant, heard a period of silence followed by a pre-recorded voice. Instructing her to hold for the next available agent."
The language used in this specific lawsuit – the earmark of an ATDS – is most important to note.
Richard v Verde Energy
Last one, and we'll drive it home.
In this case, the judge ruled that:
 "momentary pause" was "sufficient to draw a reasonable inference that the defendant used an auto dialer."
And there you have it – four separate cases in which the 3 second pause was the incriminating factor in the collection agency losing the lawsuit.
How to Solve the Problem
There is only one compliant dialing solution that has removed the 3 second pause from every call. It is the only collection software that will keep your agency as productive as a predictive dialer and as compliant as a rotary phone. It's called Arbeit Click. The compliance of Arbeit Click is twofold.
Arbeit Click is the only collection software that will keep your agency as productive as a predictive dialer and as compliant as a rotary phone.
First, the software adds human intervention to every step of the call – three layers of human intervention, to be exact. Arbeit Click requires human intervention at every step of the call, from dialing or initiating the call, to detecting voicemails, and even leaving voicemail messages. It is the only system with three layers of human intervention. According to numerous TCPA defense attorneys and current case law, human intervention can protect you from a lawsuit.
Second, the removal of the three second pause can also protect you from a lawsuit.  Here's what it looks like when software does not use protection. A software determines if the connected call was answered by a live person or a voicemail. Once the computer determines it's a live person or voicemail, it then transfers the call accordingly. This process creates a delay of about 3 seconds resulting in the "3-second pause."
Arbeit Click eliminates that "3-second pause" by allowing your agents to serve as that voicemail detection. Clicks easy-to-use interface lets them quickly choose what they want to do when prompted with a voicemail and disconnect the call, leave a live message, leave a blended massage (part live, part pre-recorded) or leave a pre-recorded message. This adds an additional layer of human intervention.
When all is said and done, you have a lot less to worry about.
What Are You Waiting For?
Arbeit offers week-long free trials of their software so you can see if it's the right fit for your agency.
Agencies who use it are making up to 200 calls per hour, per agent. It's great to win lawsuits, but it's even better not to get them in the first place. Arbeit Click is setting a new standard for the agencies who are willing to do what it takes to stay compliant. Find out if Arbeit Click can save you the stress of lawsuits today!