Choosing the Right Auto Dialer Software for Your Collection Agency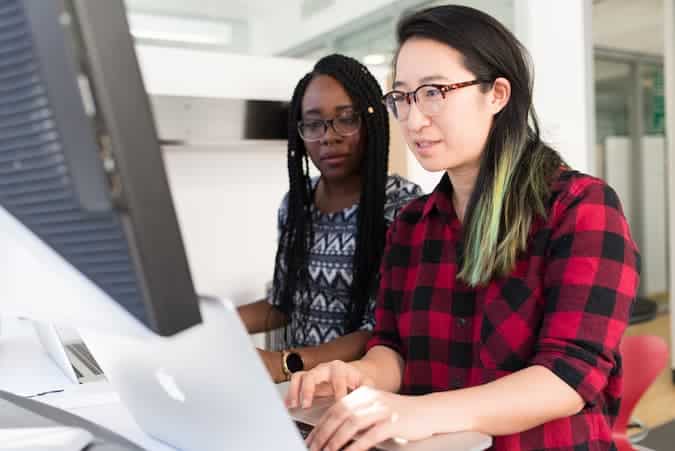 Start Making More Calls Today
Not sure which solution would be the best fit for your needs? We can work with you to find a solution that's right for your business.
get a free quote
Everything you need to know about choosing the right auto dialer for your collection agency.
Technology has reached the debt collection space and continues to evolve. Until recently, manually dialing hundreds of thousands of numbers used to be the norm. Options for automated ways of dialing are now abundant.
With a system that automatically dials, agencies can strategize each day of dialing, rather than working through a mass list of phone numbers with no agenda in place. Auto dialing technology is beneficial for agencies of any size, niche or location – but with the TCPA and call baiters looming, there is more to be conscious of. Let's first discuss the pros and cons of making phone calls with an auto dialer.
Pros and Cons of Auto Dialer Software
Competition in the debt collection space is growing. The number of collection agencies is soaring. At the same time, consumers grow wary of the collection industry as a whole. For collection agencies, it presents a challenge.
How can you stand out as an agency that consumers, creditors and debt buyers want to work with, while still generating profit? And how can you find the balance between compliance and productivity?
An autodialer can either be an asset or a nightmare in finding this balance.
Let's go over why integrating call center software benefit the needs of your agency and improve your conversion rates.
Improved Operational Efficiency
This is perhaps the most obvious benefit. When you use an auto dialer, you eliminate hurdles like misdialing, excessive wait time and call drops, and the pain of manual dialing. It ensures connected calls are routed properly, increase your call to connect ratio, and overall, boost productivity.
Reduced Idle Time
The most frustrating part of any job is any time you spend waiting , whether it's for a report to finish, a video to load, or a call to connect. This is especially true in a contact center, where so much of your job is talking on the phone. Auto dialer technology can recognize a disconnected call or a busy tone and skip the call if time wasting signals are identified. It ensures that only connected calls are routed to agents – significantly reducing downtime.
Better Lead Conversion Ratio
Many auto dialers have integration capabilities that allow an agent to see contact details right as the call connects. This gives them the ability to prepare the data they need to present, personalize the conversation, and better engage the consumer. Naturally, a personalized conversation will much better convert than sounding like you know nothing about who you're talking to.
Real Time Monitoring and Reporting
For collection managers and administrators, the ability to monitor your agents activity is vital. If the worst happens and you're hit with a lawsuit, it's much easier to defend yourself when data is stored properly. Similarly, during the training process for new agents, an auto dialer can help you monitor the call and even hop on if necessary. Procedures like transferring are available at the click of a button rather than a complex process.
It's clear that an auto dialer can greatly simplify and speed up your collections process, but with great power comes great responsibility. As your process speeds up, there is much more to be aware of. The biggest risk associated with an auto dialer is the TCPA, or the Telephone Consumer Protection Act.
Auto dialers are strictly regulated by the TCPA. One violation will cost you between $500 to $1500 – you can imagine how this can add up fast when applied to each dial. It can be devastating to small businesses. Violations such as calling a cellphone with an ATDS without consent, or even dropping more than 3 percent of calls, can land you in a heap of trouble.
There are plenty of resources agencies can take advantage of that can keep them informed on the latest in TCPA compliance trends. Unfortunately, courts often offer different opinions on the same violation, and this can make things confusing for agencies. The best way to approach compliance, say many experts, is to retain a robust DNC system, stay aware of disconnected numbers, and make sure the creditors you work with have obtained consent from the consumer to be called on their mobile phone. Stay informed as much as you can about the latest TCPA decisions and trends, such and when you are choosing an auto dialing software, ask lots of questions about the compliance of their product.
Factors to Consider When Selecting Auto Dialer Software
Every agency's focus, size and needs will be unique and with that, will require the right dialer to suit those features. Here are some initial elements to consider:
Type of Call Center Process
Examine your procedures (maybe you don't have any yet, and that's okay!) and determine whether you generally focus on generating inbound calls or outbound dials.
And along with that, how involved do you want your agents to be in the dialing process? Do you want them running the dialer themselves, or waiting for the call? One person running the dialer? Multiple? Make sure the roles of each of your agents is clear before switching to a new procedure.
What kind of CRM or collection software do you use? Is it able to integrate with your dialing software? Screen pops or the ability to update the account from within the dialer can make your collections process seamless and fast.
Does your autodialer make sending a broadcast message easy? Sending voice to a lot of consumers at once is a big part of the job. The provider you choose to work with should be focused on keeping you productive, compliant, and additionally, enabling your agency to have pleasant conversations.
Auto Dialer Software Features to Focus On
Once you have determined the gaps that an auto dialer can fill for your agency, put out your feelers and look for the following features. Note – this list could become excessive fast, so keep in mind this is not an exhaustive list, and ask a lot of questions to the provider about what is included.
We listed this first because we believe a company that does not prioritize their customer service is not the right company to work with. Your set up and trial period should not be a headache, and every question you have should not be difficult to find the answer to. Keep this in mind when making a decision about your autodialer software provider. At the end of the day, great auto dialing performance relies on the company's ability to train you how to use it well.
This is also sometimes referred to as message personalization. When creating voicemails, many auto dialers allow you to insert text that is read to speech. The text read will come from your CSV so the software will read things like first name, last name, etc.
If you prefer leaving a voicemail message with a real voice, you can pre-record a message instead that will automatically play.Call recording – This is your first defense against a lawsuit if you should be the victim of call baiting. It's also an extremely useful tool for training. Free Trial – software providers should provide you with a free trial so you can experience the software and see how well it works for your agents before you decide to purchase it.
Answering Machine Detection
Software should be able to detect an answering machine so it can leave a voicemail when appropriate.
It should be simple to set up a call campaign from start to finish – importing a list, monitoring, and setting up custom times for the campaign to run should be simple.
The ability to transfer a call easily should also be included.
DNC capabilities should also be a high priority. When a number is marked as DNC, it's often a matter of a lawsuit or not should that number accidentally be called again.
Similar to campaign management, you should be able to manually assign when a campaign is running, so your mornings and evenings are stress free and automatic. When your agents are in dial mode, you don't want to waste a minute. Setting dial time to run automatically should be part of the deal.
Software should allow you to monitor calls live. This is important for training and for a collections manager to know if and when he or she should intervene.
The ability to pull reports is vital. Not only should you be able to monitor your progress and profits, you should be able to tangibly see how a dialer is boosting your profits and productivity.
Software should allow you to leave dispositions such as "Call back", "Disconnected Number", "No answer", etc. so you can appropriately re-run a campaign or throw away bad numbers.
Another helpful feature is CRM integration – this can make your life much easier. Being able to notate an account right from your dialing software can vastly speed up your day to day processes.
Although this runs you an additional charge, the ability for software to use Regional Caller IDs can drastically boost your lift rates as well as your inbound call rates.
Voice Broadcast or Press 1
With software, you should be able to customize exactly what consumers hear when they pick up the phone – for example, Press 1 for a live agent.
This is a useful feature for increased stability. Some software allows you to link inbound traffic to a SIP address. Coaching capability – Some interfaces will allow you to have an agent listening in on another with the ability to pipe up if necessary.
Make sure the interface of your dialing software is easy to use and understand. It shouldn't be a complicated mess – because the software is meant to simplify and speed up your processes, it should be built with user experience in mind, with a team that is working to improve it often as well.
Different Types of Auto Dialer Software
A voice broadcast dialer is basically a way to reach a large amount of individuals in very little time. A voice broadcast autodialer will work on specific algorithms to broadcast voice messages automatically. This type of dialer should be customizable and allow you to prioritize outreach.
Predictive dialing uses an intelligent algorithm to improve calling efficiency. It continuously monitors agent activities, collects call statistics and predicts future calling strategy. A predictive dialer should take the average call duration of agents and the number of live connections into account to predict the dialing ratio and availability of agent for the next live call. It should pass only live calls to agents. Additionally, it should filter out calls that are busy, wrong, or voicemails.
A power dialer only differs from a predictive dialer in that it utilizes a manually-configured calls-to-agent ratio.
A preview dialer allows your agents to see details about the next contact on their list. This is typically not used in collections, and is more common for inside sales, outbound sales, political campaigns and the like.
TCPA Compliant Manual Dialing Solution
It's also been referred to as click to call software, but be wary. This software essentially requires an agent to click on the number they are calling to add a manual element to their dialing. This is a precaution against TCPA lawsuits to mobile phones because it argues there is human intervention at the time of the automatic call. Some "click to call" providers, however, only allow the collections manager or administrator to click, and this can make things more complicated. Be sure to vet your provider for information about who is clicking when calls are made.
Newer to the collection space and a risk to agencies, this software leaves a voicemail like you might receive a text. This software argues that it is more convenient for the consumer and boasts a high conversion rate, but it has been proven non-compliant by one court and warned to be a dangerous alternative by TCPA experts.
Hopefully this has given you a basic understanding of what it will look like to use auto dialing software. It can be a massive asset and boost your profits by massive amounts, but prioritize the care and quality of service of your provider to get the best results.