Internet Phone Systems for Business: A Complete Guide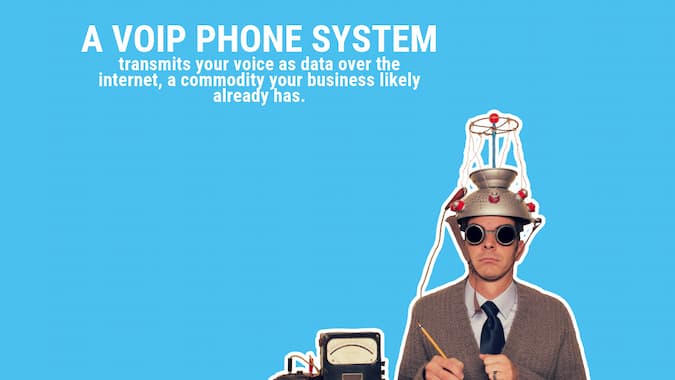 Start Making More Calls Today
Not sure which solution would be the best fit for your needs? We can work with you to find a solution that's right for your business.
get a free quote
Why are so many businesses switching to internet-based (VoIP) phone systems?

As long as you have a reasonably fast and quality internet connection, you can get phone service delivered through your internet connection through VoIP. VoIP stands for voice over internet protocol. It turns your voice into data and transmits it over the internet.
In addition to traditional voice services, a VoIP phone can give you access to advanced applications that can help your staff be more agile and productive. Here is a non-exhaustive list –
Internet-Based (VoIP) Phone System Features
Mobile integration
Call recording
Advanced Call Flows
User Portals
Long-distance conference capabilities
Operator Console
Voicemail manager
Mobile app
Video conferencing
An Internet-Based Phone System is Cost Effective
Some VoIP providers start off as affordable as $19.99 per device.
This is because the service transmits through the Internet – a commodity your business likely already has in place, helping you to avoid unnecessary or extra overhead costs. You will also likely be able to install a VoIP phone system on your own, saving you the cost of hiring someone to wire or install the business phone system.
You're not just saving on the cost of the service – overhead costs like maintenance and space are also less of an issue. Often, VoIP is priced per extension with unlimited calls or minutes. Because VoIP is priced this way, the stress of receiving a bill with erratic or unexpected charges is taken away.
This is even more attractive to industries like real estate or insurance. If your employees are often in and out of the office, the use of a mobile phone is often necessary to communicate with coworkers and clients. If you front that bill for your employees, VoIP can allow for those mobile minutes to be included in your bill. That way, any minutes spent on a mobile device won't cost extra – they will simply be included in the flat rate. Sounds pretty appealing, doesn't it?
Easy Installation & Maintenance
In some cases, installing a VoIP system may not require traditional cabling beyond the existing internet network. This makes installation quick and easy, in the simplest cases it's a 3-step process:
1. Set up your call flow
2. Submit port requests (some companies will handle steps 1 and 2)
3. Program your phones (again, some companies will handle this for you) and you're live
In addition, it's also much easier to "add an extension."
Small businesses may not have the resources for "in-house" IT, but the user-friendly nature of VoIP makes it easy for users to adjust to their own preferences without needing the help of a pro.
Furthermore, VoIP is often more reliable than traditional PBX lines or multi-line phone systems. There are little to no interruptions.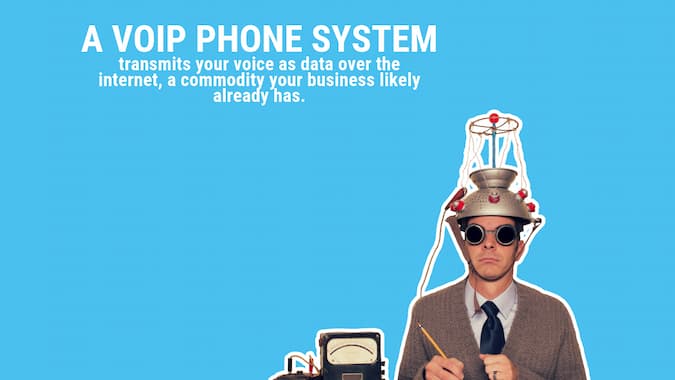 Helpful for Telecommuters
As remote work becomes more popular, those who prefer to commute or require a more flexible work situation can choose to access their extension's data from anywhere on their mobile phone instead of their office phone. This means they can view their voicemails, directories, call history or anything else that they might need to access, from anywhere.
In addition, if you employ many remote workers, it gives you a really simply way to cover the cost of their minutes without the hassle of installing a physical device. Many small businesses decide to use VoIP for this capability in particular.
Plus, as we discussed earlier, any minutes your employee spends on their mobile phone remotely won't be added onto your monthly rate. They will simply be included in whatever you are paying per extension.
Cloud communications simply means the system is hosted off site in a secure data center. The server and phone system are then accessed over the internet.
As previously stated, cloud-based phone systems tend to be less expensive. Learn more about a cloud-based system later.
Many small businesses have begun making the switch to a cloud-based business phone system because the additional features that accompany multi-line phone systems are simply not needed in a small office.
In addition, many small businesses appreciate the ability to add an extension easily. For fast-growing small businesses, a new employee becomes a new user and you will only pay for what you need as your number of users grows.
What You'll Need to Switch
All you need is an internet connection. As we discussed earlier, many companies will take care of the porting process so you can keep your existing phone numbers. In some cases, you can keep your desk devices as well. Otherwise, if you prefer to have hard phones, you will need to replace them.
You also have the option to use "soft phones" or internet phones that don't require the use of a device. Think Skype. You can make and receive calls directly through the Internet without a physical phone. Some offices do prefer a physical phone, and rightly so. If that is the case, there are many models to choose from. Below are some links to the most popular models:
It may seem like small business VoIP options are endless. Because of that, when choosing a small business VoIP provider, be sure to prioritize:
Cost (Providers start out around $19.99 per device.)
Robust Features
Customer Service
Quality of carriers