Dispute Resolution 101: An Introduction to Consumer Friendly Dispute Resolution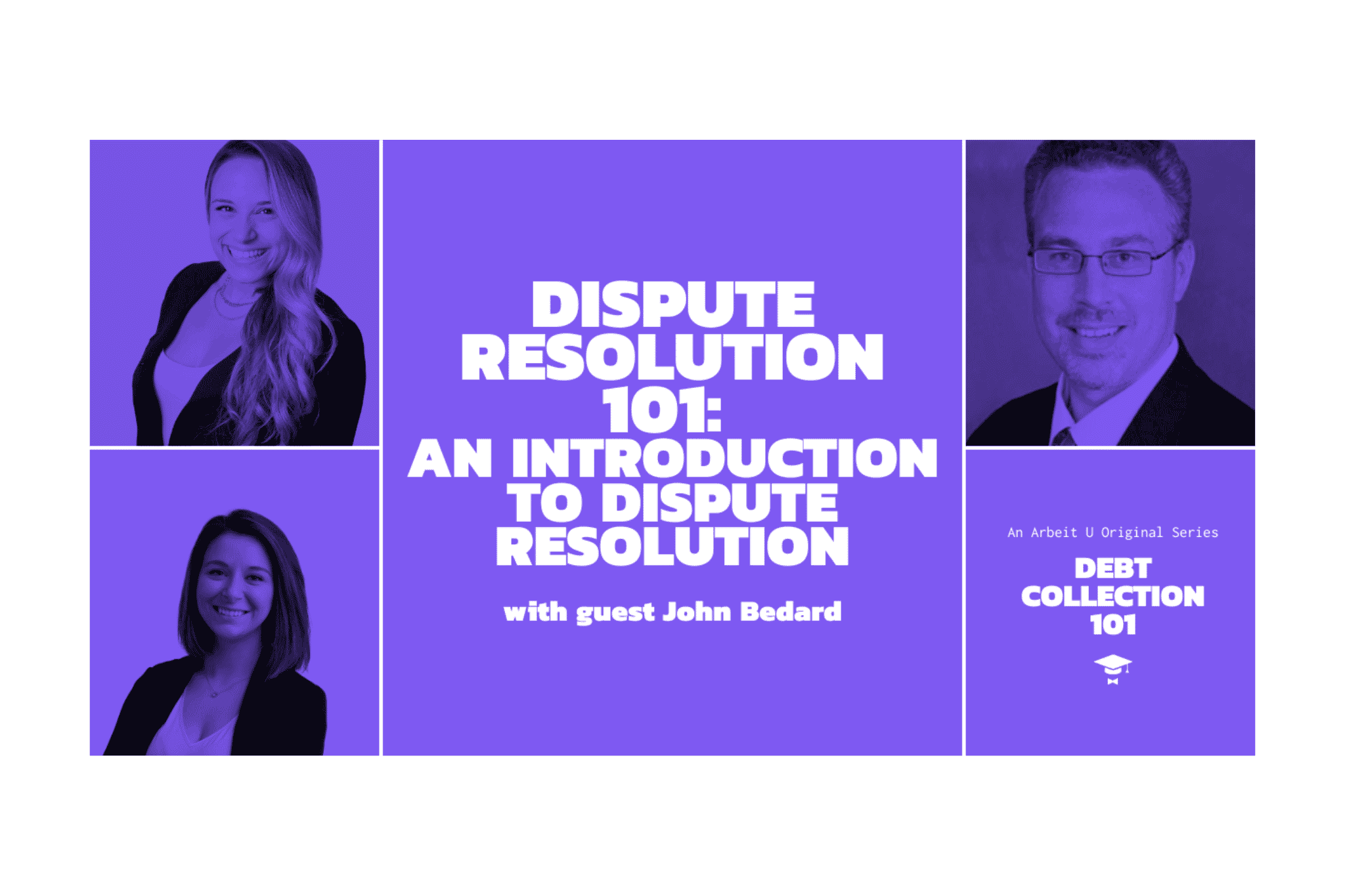 Start Making More Calls Today
Not sure which solution would be the best fit for your needs? We can work with you to find a solution that's right for your business.
get a free quote
Dispute resolution in debt collection is one of those unglamorous topics that, as John Bedard puts it, is "so important to get right."
With a simple online search, consumers can uncover easily misleading information about how to use dispute resolution practices to avoid or manipulate repayment. Agencies should be prepared to receive, process and quickly determine the right course of action for any dispute they receive.
Resident FCPA and FCRA expert John Bedard walks us through best practices to accomplish this.
If you do not have dispute resolution procedures in place for your debt collection agency, we're happy to say you're in the right place. We'll cover how to get started managing incoming disputes, as well as deep dives into:
📋 Protocol for an agency to follow when resolving disputes in debt collection
📋 Existing regulation for dispute resolution that agencies should abide by, in their initial communication and beyond
📋 Best practices for agencies to follow to make the dispute resolution process smooth and consumer friendly
Whether dispute resolution is totally foreign to you, or you are looking to improve the way disputes are addressed in your organization, we'll provide actionable steps to turn your dispute resolution into a well-oiled machine.
Best Practices For Processing Disputes In Debt Collection
Step 1: Log Where The Dispute Came From
It's important to keep track of where your disputes are coming from and in what format. 
Step 2: Determine What Type Of Dispute It Is
The dispute will either be an FCRA and FDCPA dispute. It's also entirely possible that a dispute can be both.
Step 3: Confirm The Validation Period
When the dispute comes in, note the dates and make sure that the dispute falls within the validation period. 
Step 4: Take Note of Identity Theft Disputes
John recommends you take note of identity theft disputes, and prepare additional methods to investigate and confirm the identity of the consumer.
Step 5: Categorize the Dispute
Move away from using the "Notes" field of your collections software, or what John called "natural language," and and use structured data format to categorize:
✔ The type of dispute
✔ How it should be investigated
✔ How it is documented
✔ How it is responded to
By capturing data this way, it's much easier to analyze your dispute data on a more global scale. 
What Regulations Exist Regarding Dispute Resolution in Debt Collection?
The overarching regulation that is used to enforce dispute resolution under the FDCPA is Regulation F. 
This will cover what your initial communication should include, dispute intake and response, and more. 
For the FCRA, you'll refer to Regulation V, Appendix E.
This documentation will provide a full breakdown for furnishers, including: 
Identity theft
Duties of furnishers of information
Duties of users of consumer reports
Duties of consumer reporting agencies
File disclosures to consumers
Affiliate marketing
Use of medical information
How Can You Make Your Dispute Resolution More Consumer Friendly?
John's best advice for agencies is to listen. 
Even if the consumer is calling in under the false pretenses of bad advice from TikTok, it's important to remember that this will only hurt the consumer in the end, and your job is to educate the consumer on the best course of action. 
The only way we can work with consumers to achieve mutually beneficial outcomes is to really listen to what they are saying without pretense.
By effectively listening, you'll uncover earnest intentions as well as bad intentions.
Practice Peeling Back The Onion
When a consumer calls in screaming, it's usually not because of the exact circumstances they are in at that exact moment. There is usually some kind of build up of momentum that leads to unfortunate outbursts that your collectors are probably all too familiar with. 
Getting into the habit of listening and problem solving alongside the consumer can prevent dispute resolutions from becoming a money and time sucker at your agency. What John calls :peeling back the onion: – seeking to understand all the circumstances that lead to the crucial conversation – will be your most consumer friendly asset in your dispute resolution protocol.   
This information does not, and is not intended to, constitute legal advice; instead, all information is for general informational purposes only.