How Consumers Prefer To Communicate With Debt Collection Agencies in 2022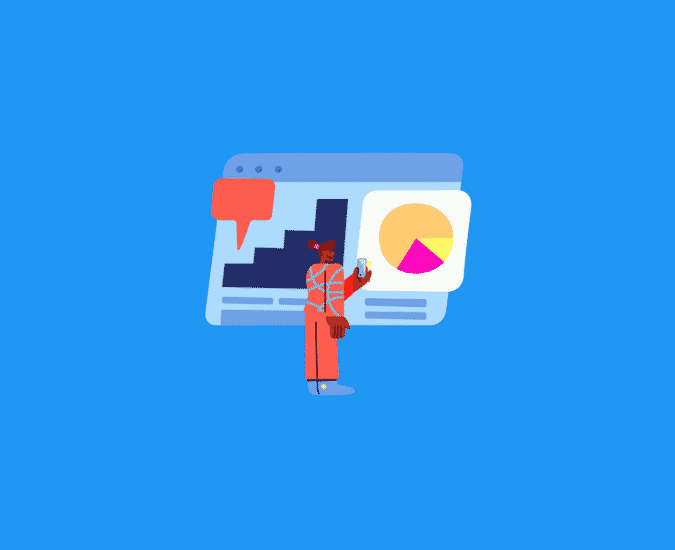 Start Making More Calls Today
Not sure which solution would be the best fit for your needs? We can work with you to find a solution that's right for your business.
get a free quote
Now that digital communication has been sanctioned by the debt collection powers that be, 2022 is a whole new world for the industry.
Email, texting and even social media were deemed acceptable ways to communicate with consumers about their debt.
We wanted to understand how consumer's preferences fit in to this new landscape, so we conducted a survey of 250 random consumers across generations.
The purpose of our survey was to understand how consumers are prepared to communicate with debt collection agencies on a given channel.
We created 15 questions asking consumers how they prefer to interact on channels like email, texting, social media and phone calls.
Our findings show these key takeaways:
Digital channels are the quickest way to convey information, but don't stop sending mail
Email is the number one most preferred method of communication to correspond, but phone calls are not dead 
Consumers prefer texting for reminders, not correspondence
Having an easy to use payment portal should be high priority for agencies
Consumers do not want to be contacted on social media. If you have to use it, use Facebook.
Keep reading to find out how consumers prefer to communicate with debt collection agencies in 2022 and beyond.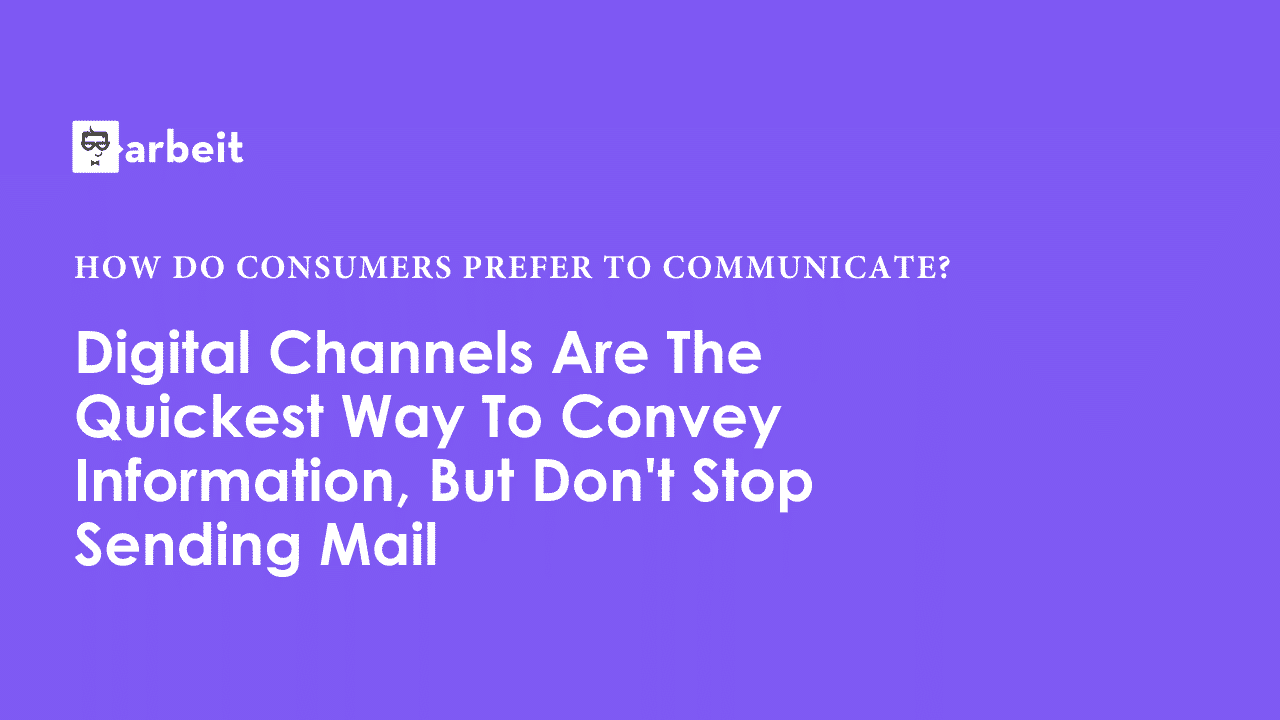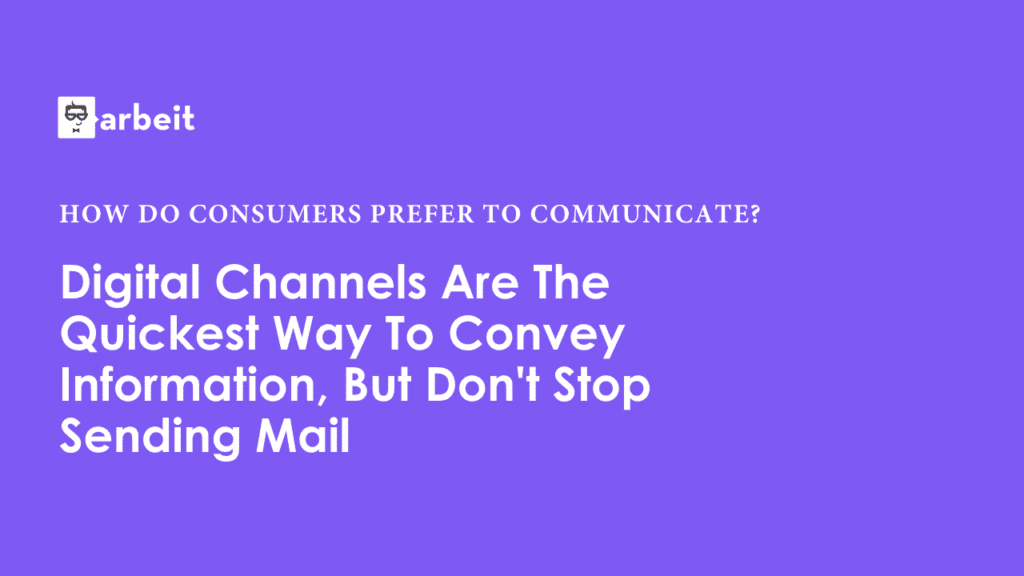 Digital Channels Are The Quickest Way To Convey Information, But Don't Stop Sending Mail
According to what we found, the quickest way to get information to consumers is digital channels like text and email.
We came to this conclusion based on a few different responses.
First, we asked consumers what channel they would consume communication on the quickest.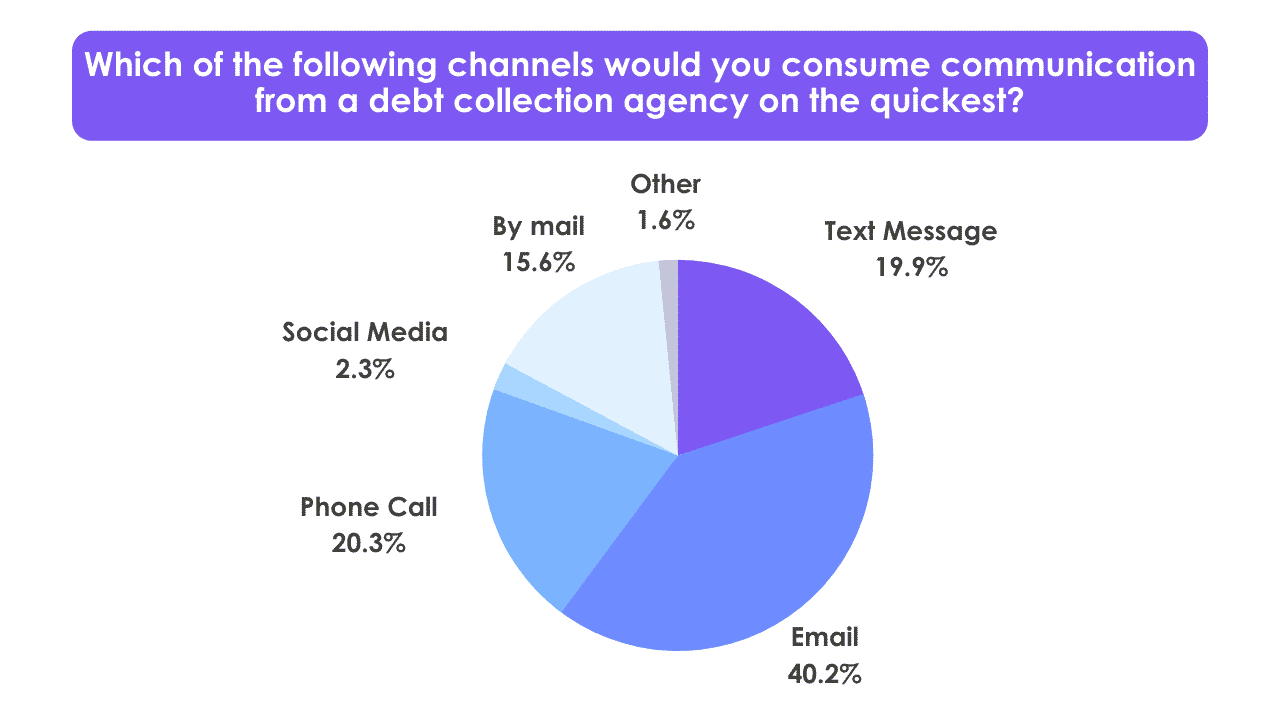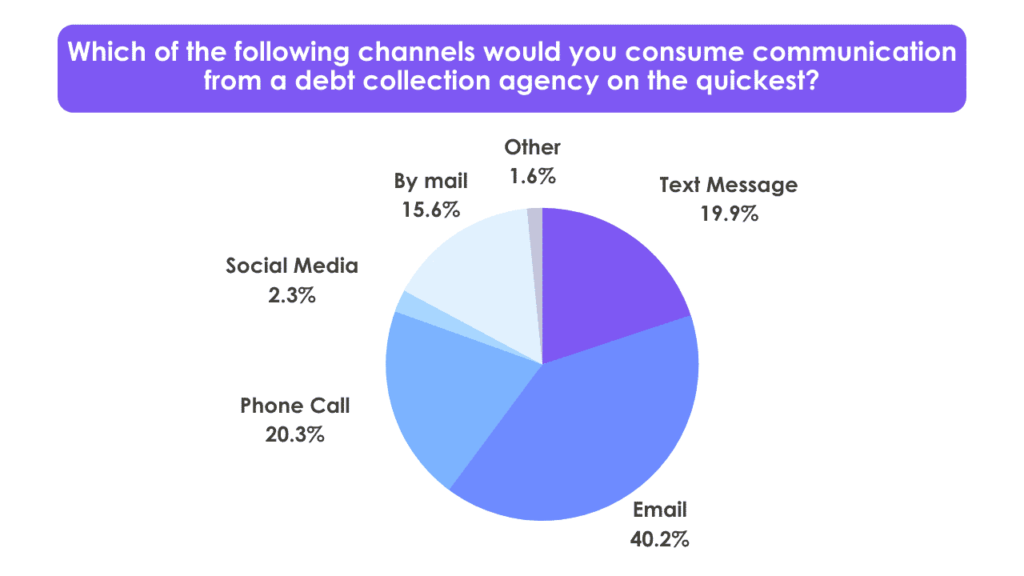 To our surprise, email was the frontrunner, with around 40% of consumers stating email as their first preference. 
Close behind email was texting and phone calls as the next preferred method to consume communication.
The first time a debt collection agency communicates with a consumer is to convey information about their debt. With that in mind, we also asked consumers how they prefer to receive that communication.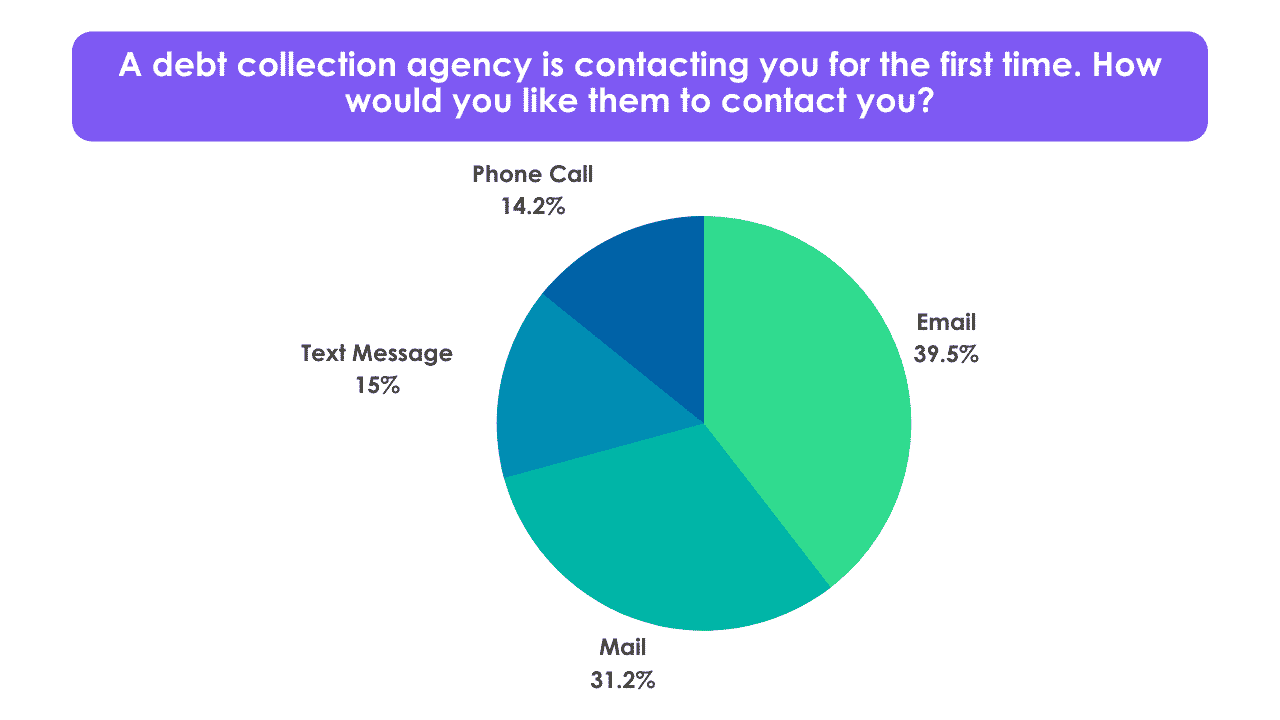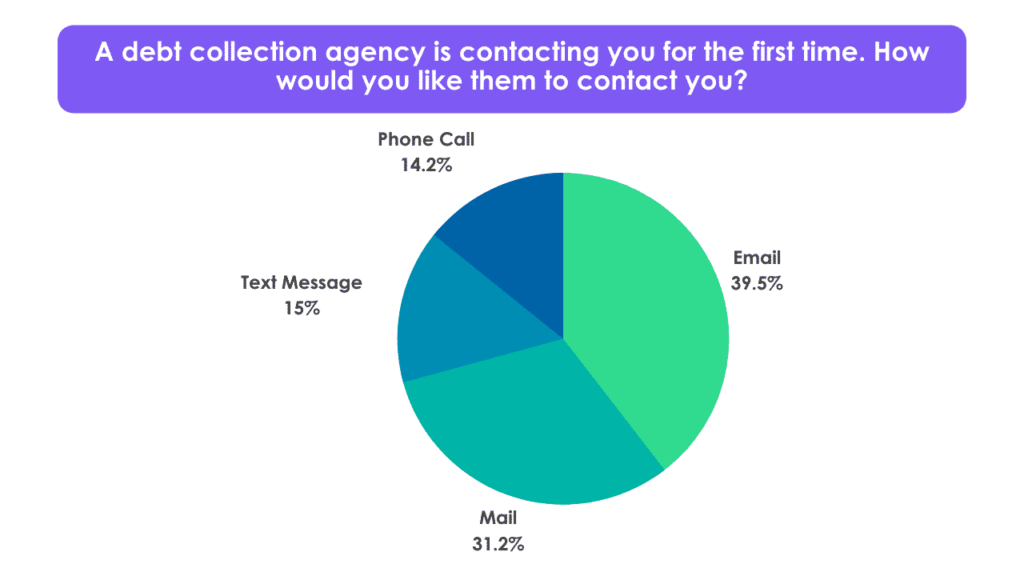 By a small margin, email was the most preferred channel.
The good news is that a large percentage of consumers still prefer mail as a way to receive information.
When it came to corresponding back and forth, there was a pretty significant difference in consumer preferences.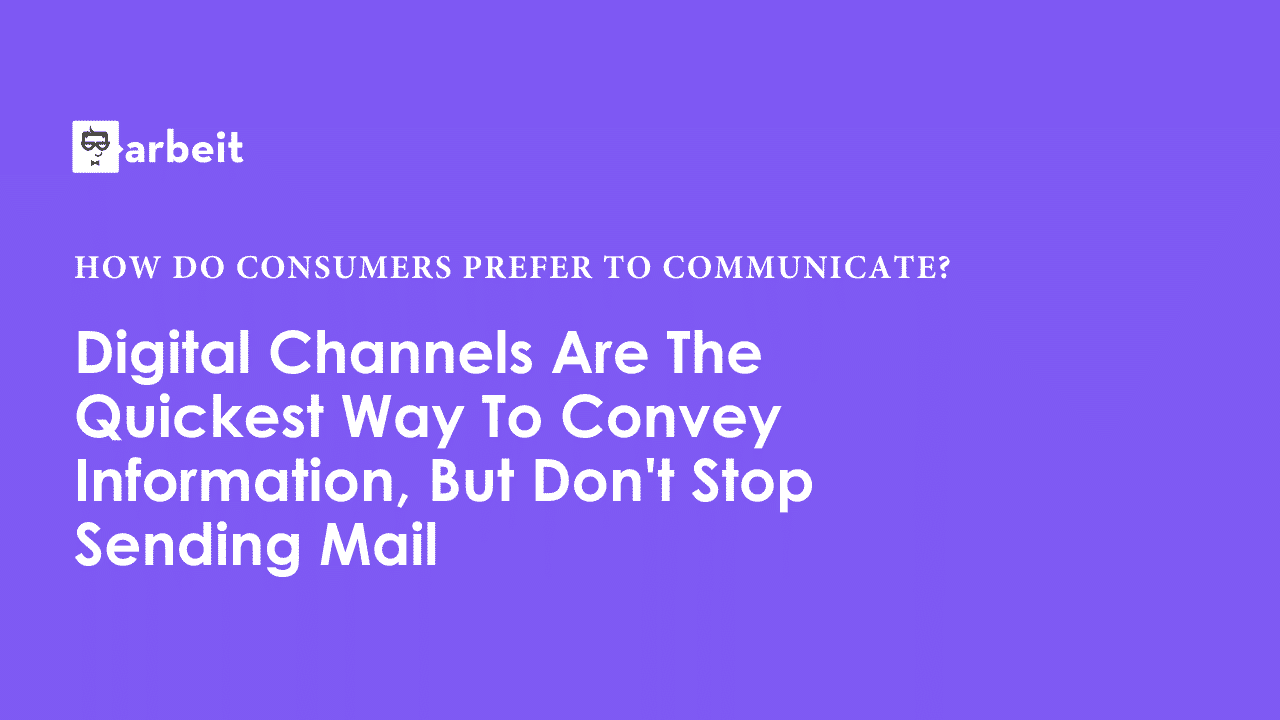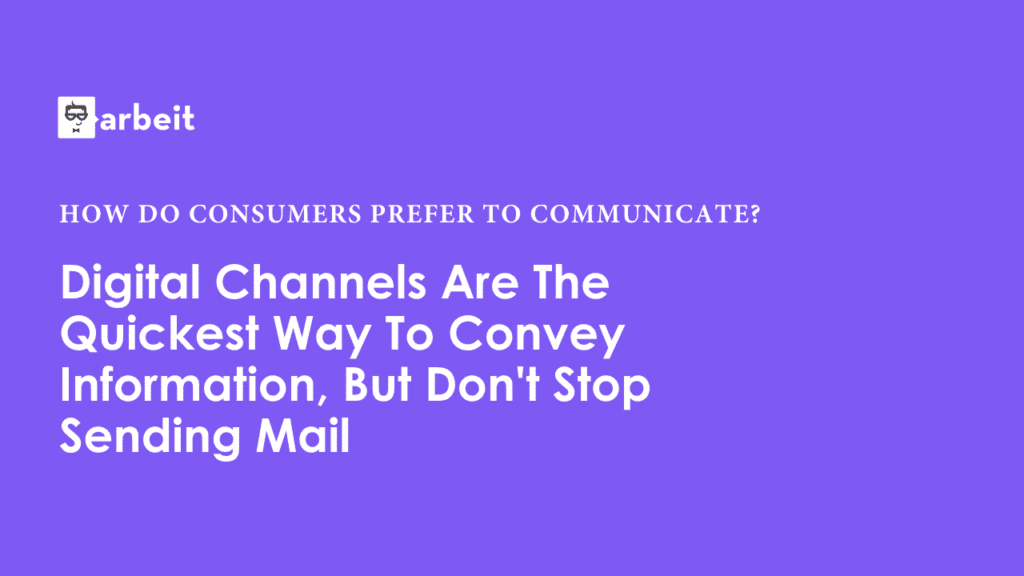 Email Is The Number One Most Preferred Method Of Communication To Correspond, But Phone Calls Are Not Dead
Once a consumer has been made aware of their debt, we wanted to understand how they prefer to correspond with a debt collection agency.
Whether a consumer wants to negotiate their payments, dispute their debt or hear more about their options, we wanted to know – what channel do they most prefer?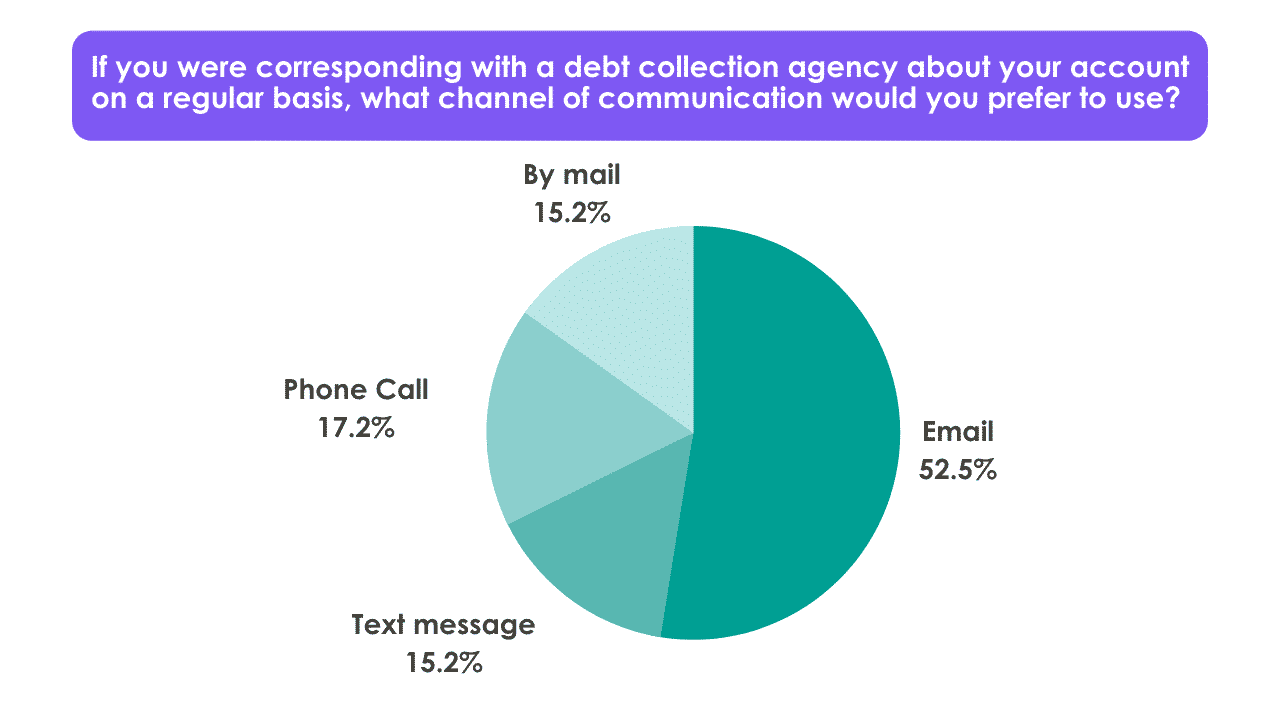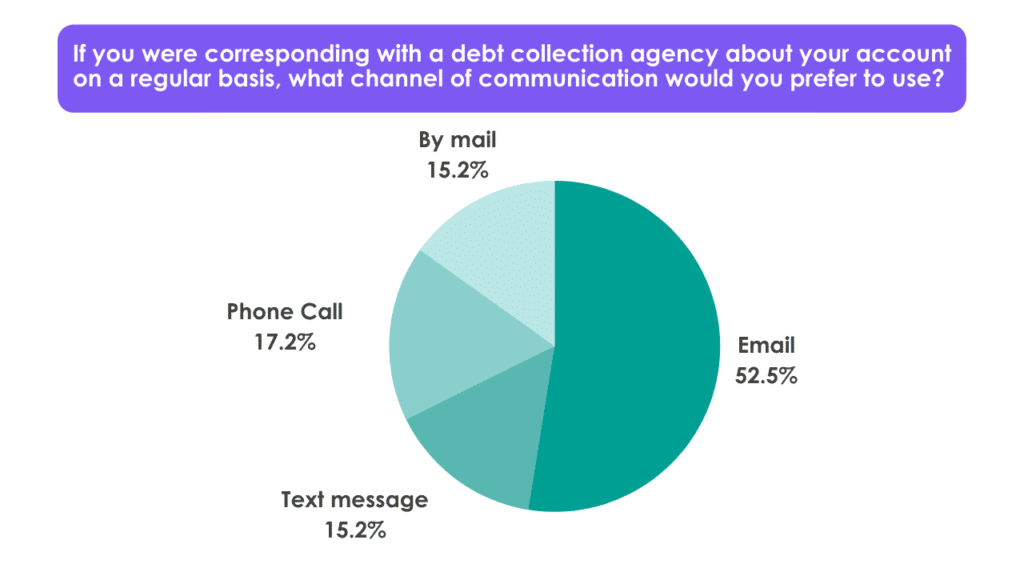 Almost overwhelmingly, consumers said email was their first choice.
But don't throw all your phones away just yet. The number two preference was phone calls, indicating that there is still a demographic of consumers who like to get things sorted out over the phone.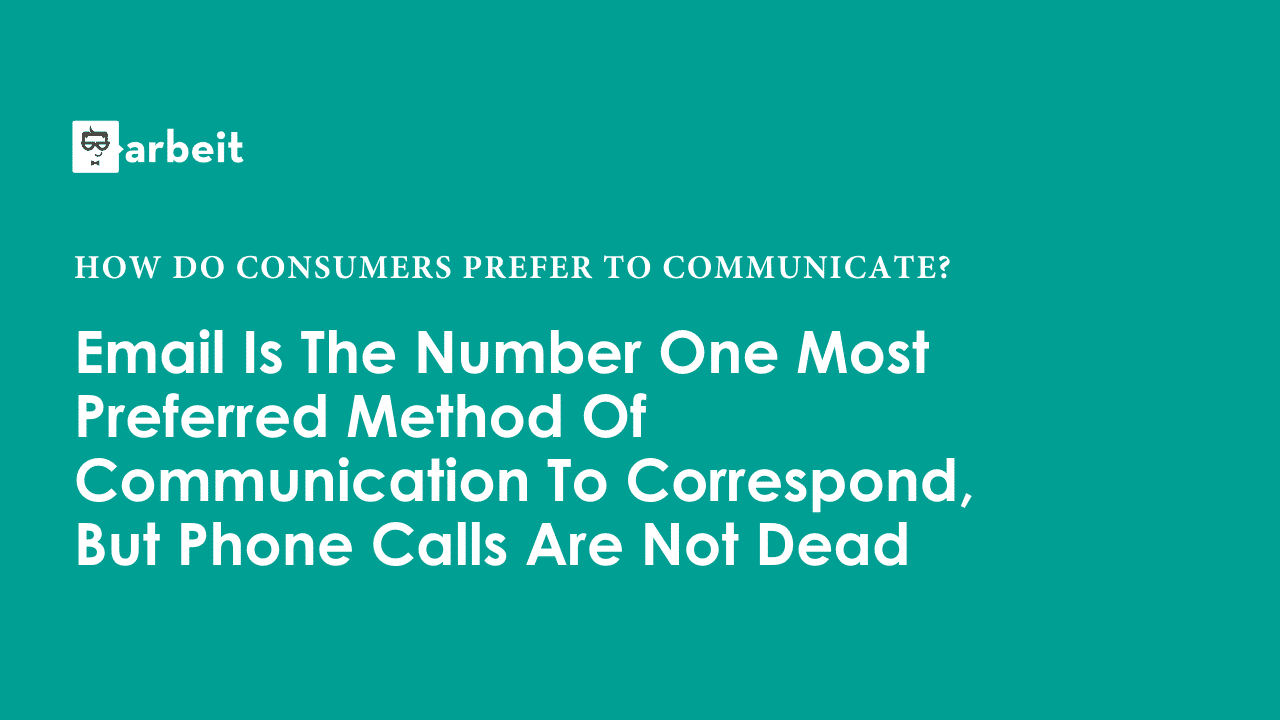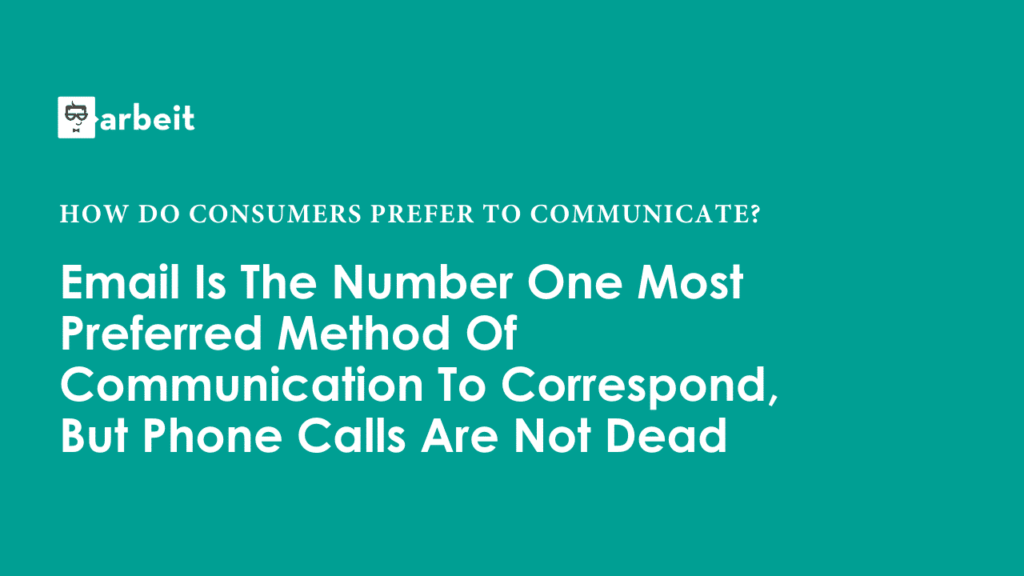 Consumers Prefer Texting For Reminders More Than Correspondence
As agencies and vendors alike build out systems around the ability to text, it was important for us to understand consumer's relationship with texting.
First, we asked how consumers prefer to use texting when working with debt collection agencies specifically.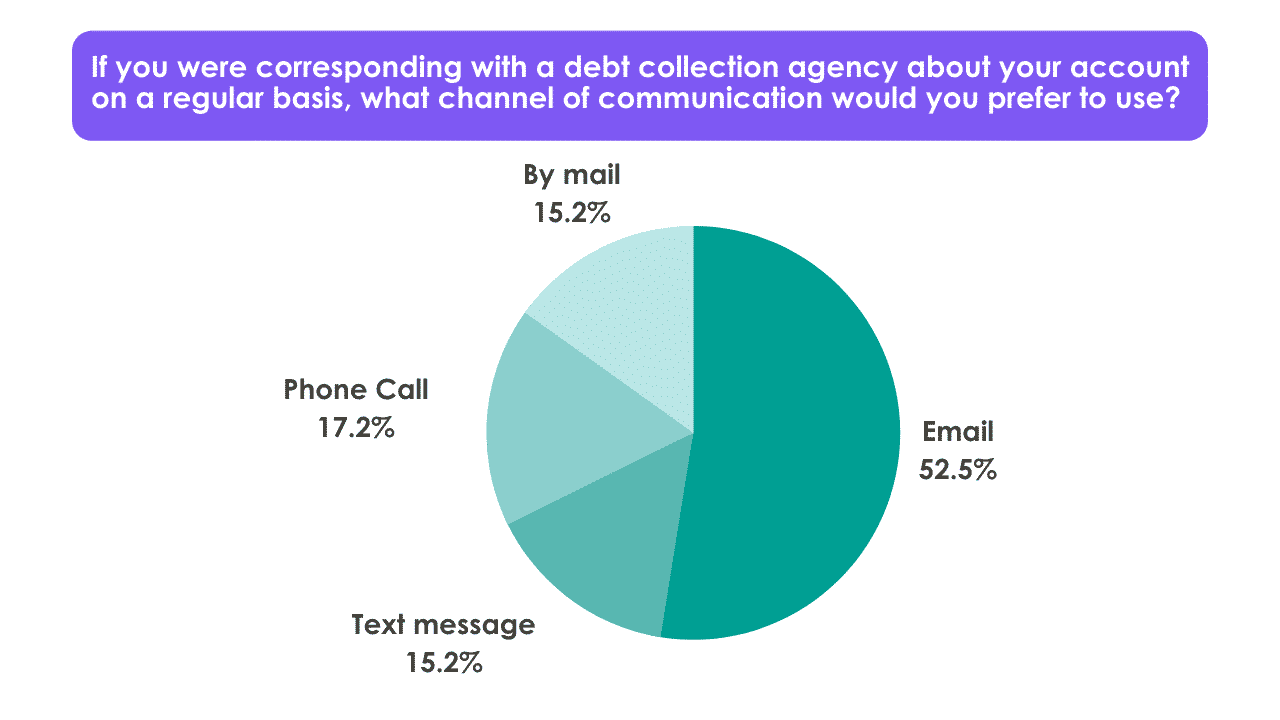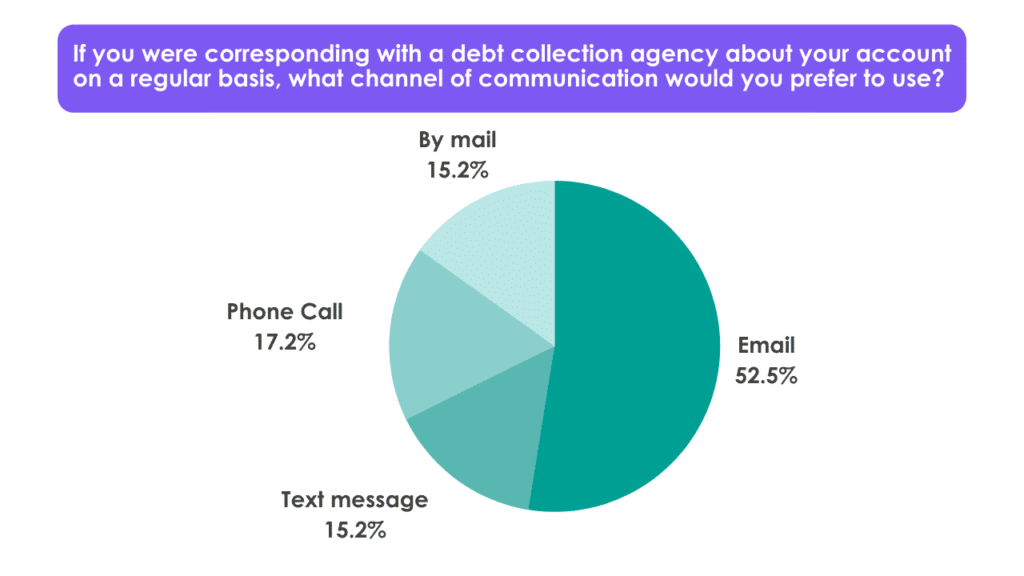 Although there is still a large percentage of consumers who prefer corresponding via text, the majority of respondents said they liked payment reminders via text best.
The good news is, if you are an agency who is holding off on texting to see how things play out, most consumers won't punish you for it.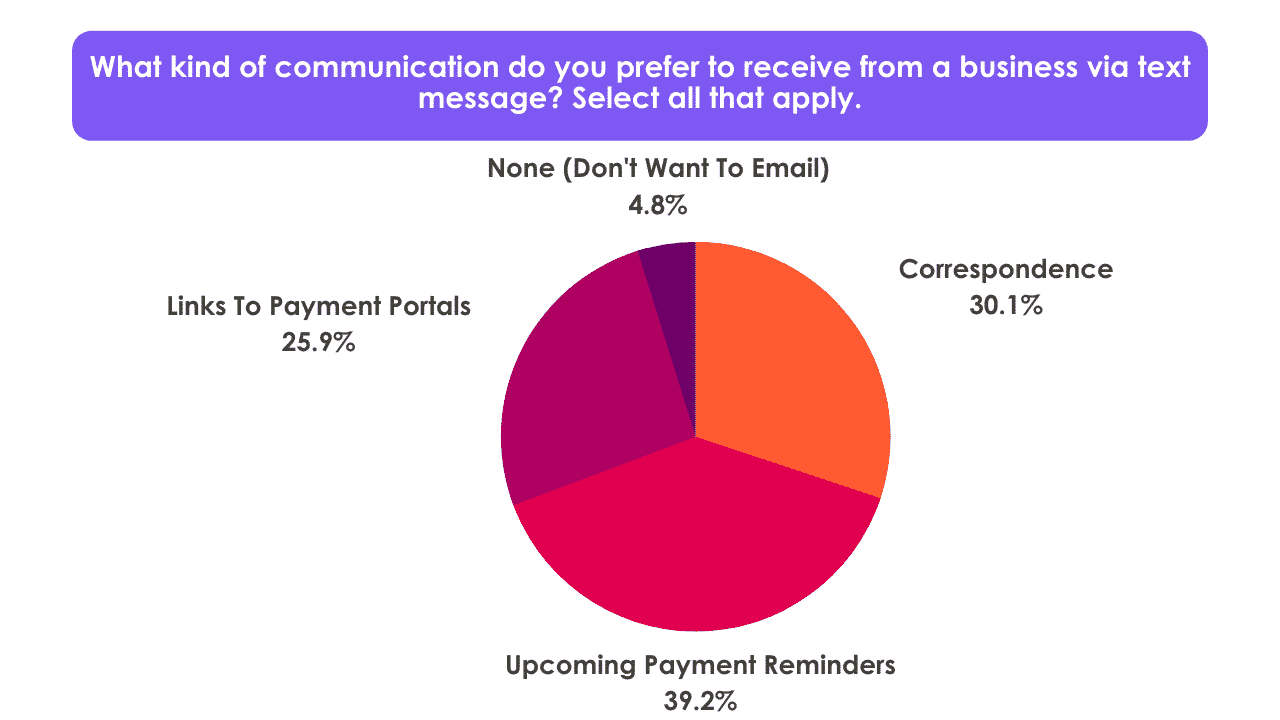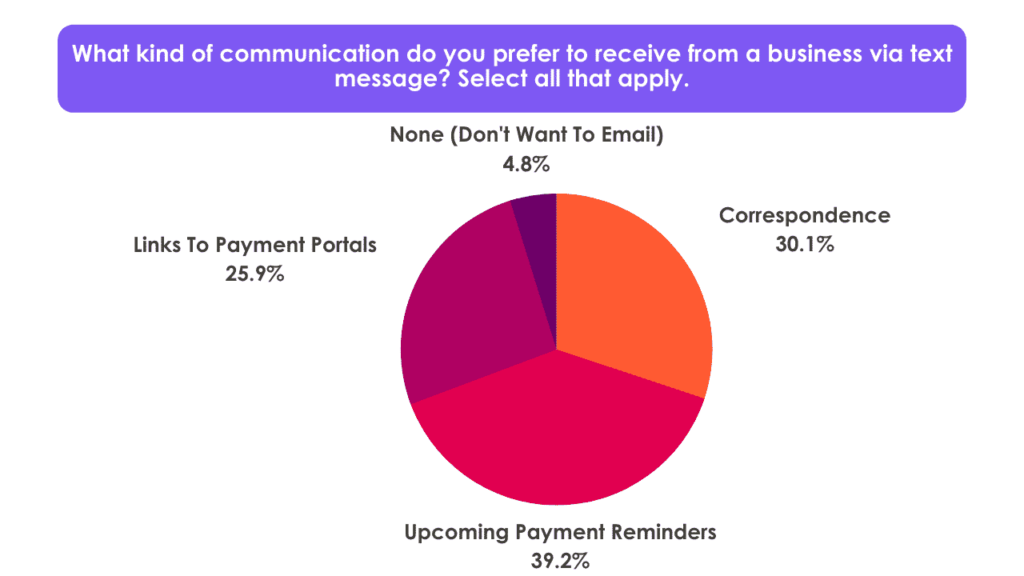 57% of consumers said that not being able to text wasn't a dealbreaker. 
When it comes down to it, any kind of communication consumers have with an agency is for the purpose of collecting payments. So, we also wanted to understand how consumers prefer to make payments.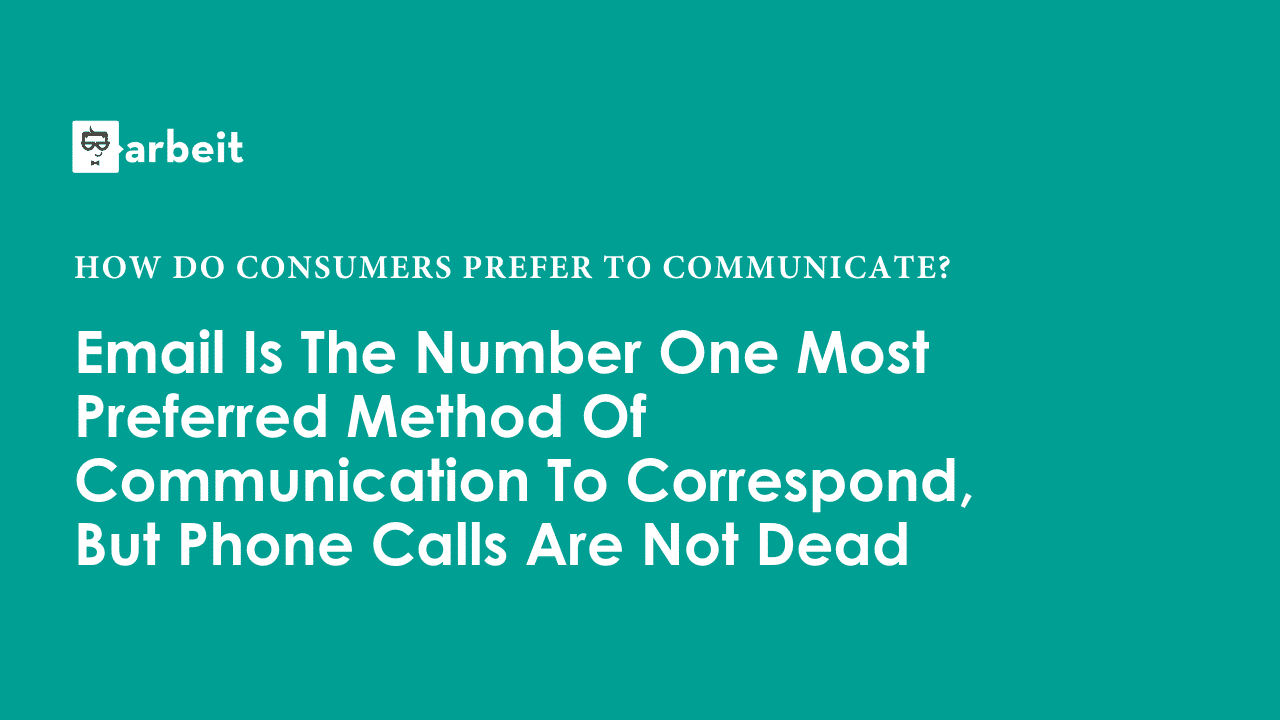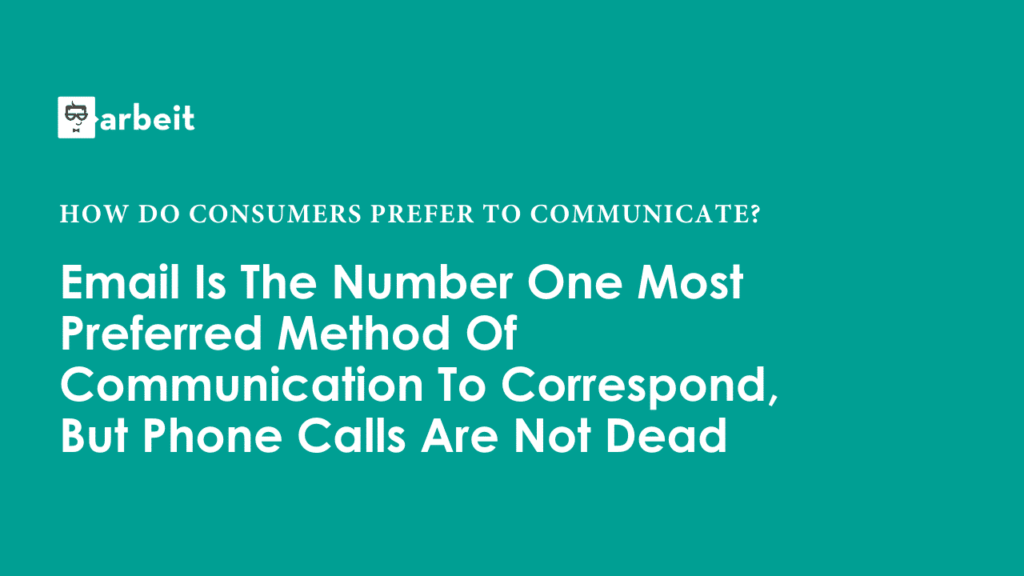 Having An Easy To Use Payment Portal Should Be High Priority For Agencies
Everything boils down to collecting payments, so we made a point to understand how consumers prefer to do so. The results here were pretty cut and dry: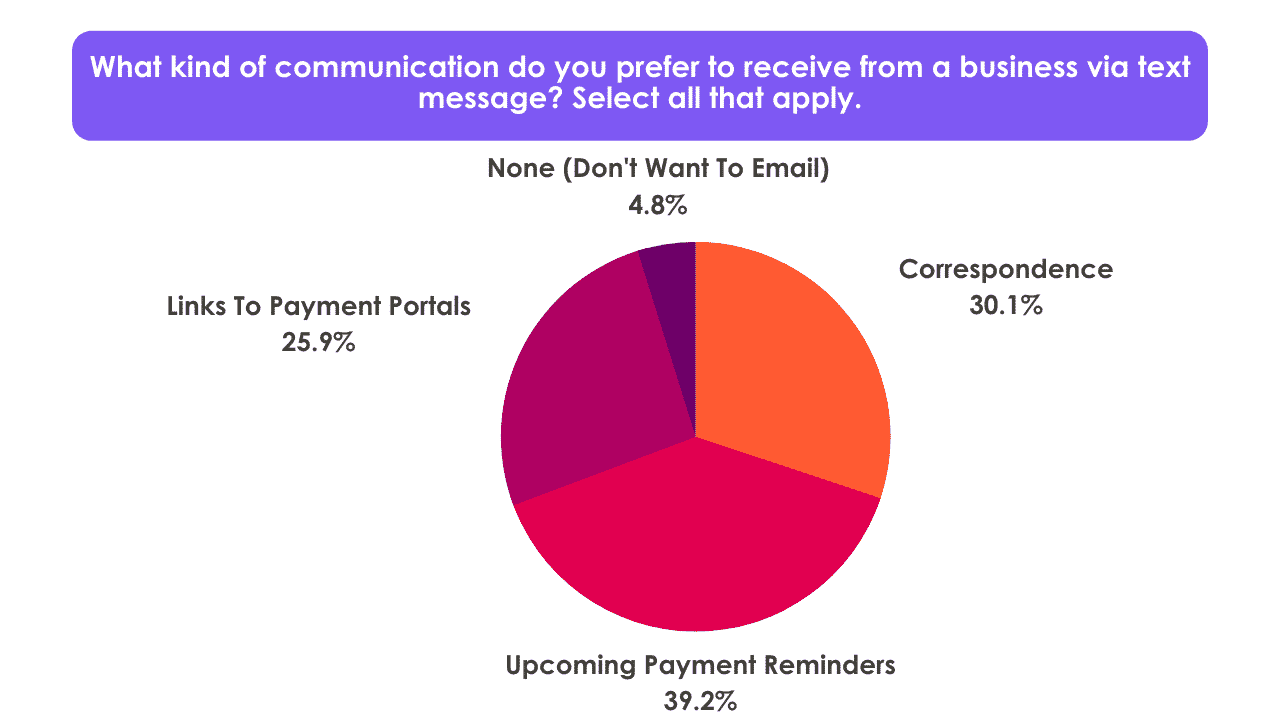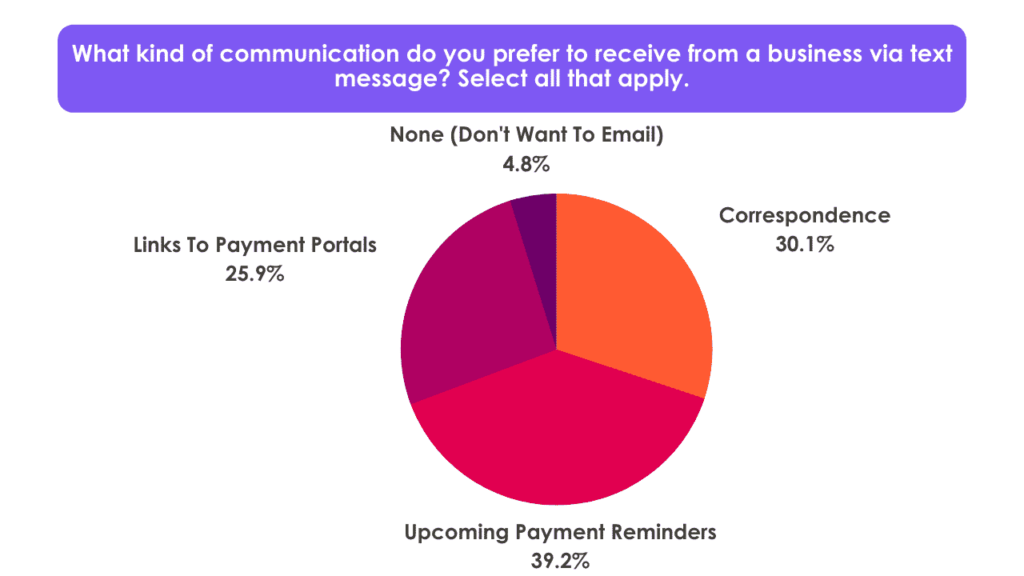 Unsurprisingly, most consumers preferred to coordinate their payments using a portal. Before agencies make any investments or changes to their communication channels, we recommend that they coordinate an online payment portal first.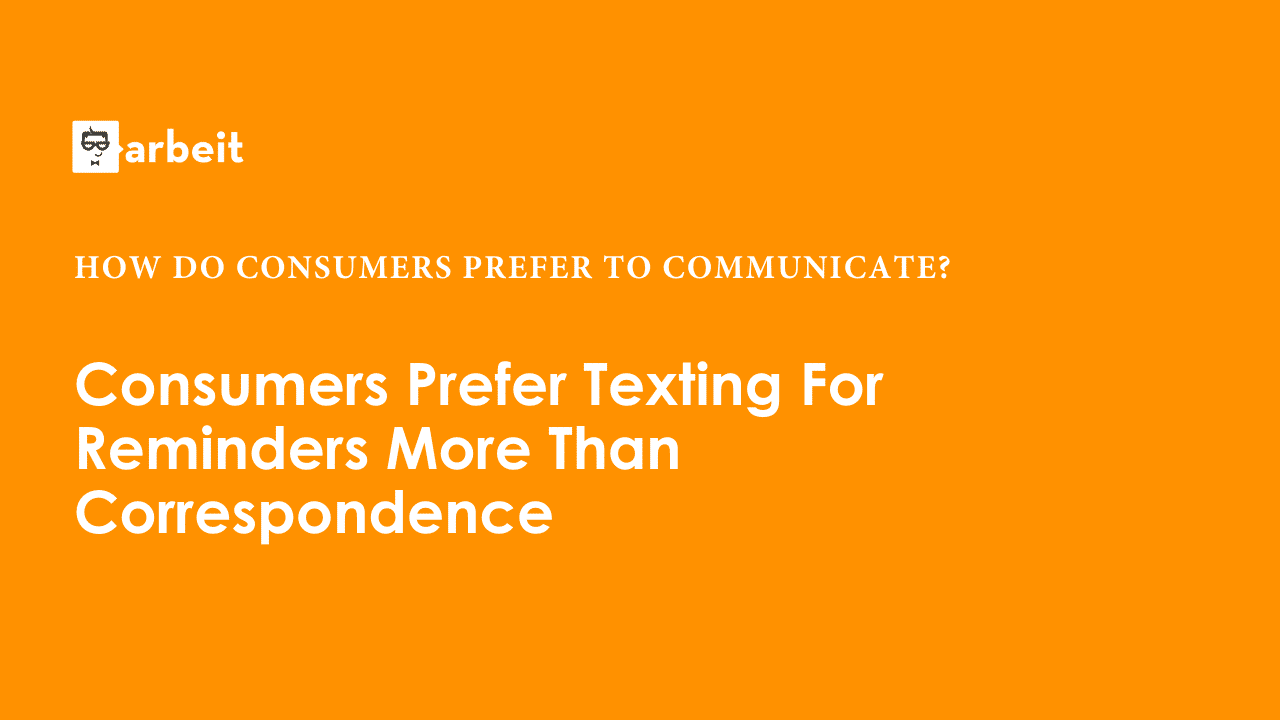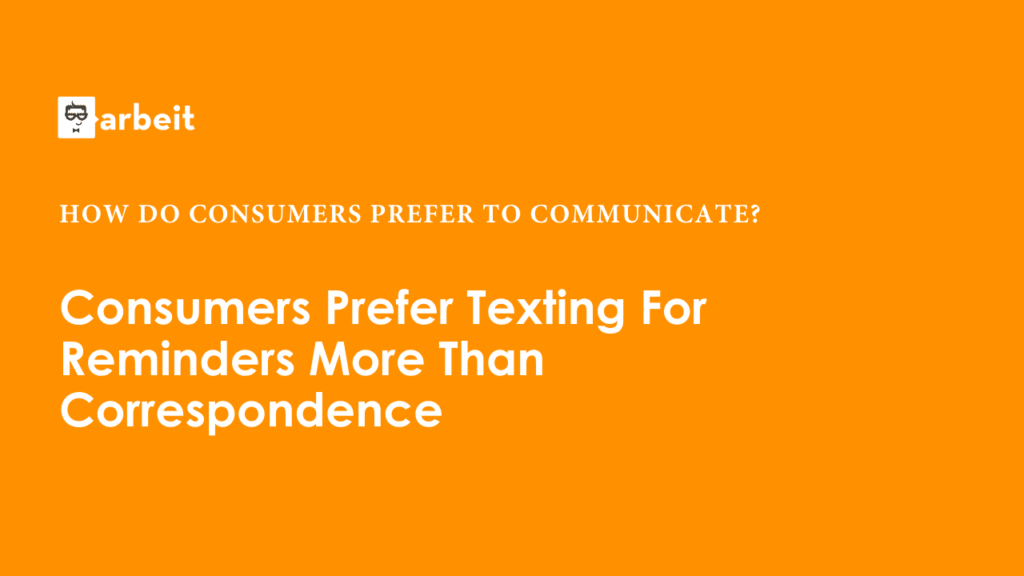 Consumers Do Not Want To Be Contacted On Social Media. If You Have To Use It, Use Facebook.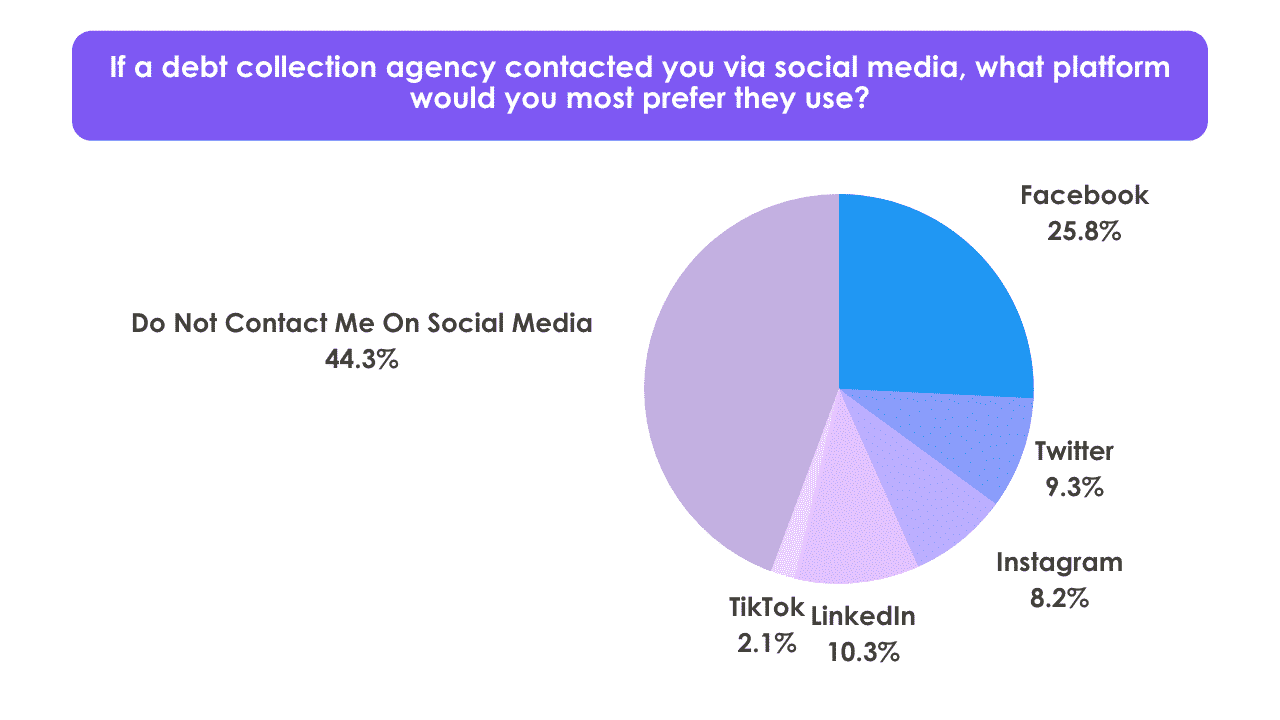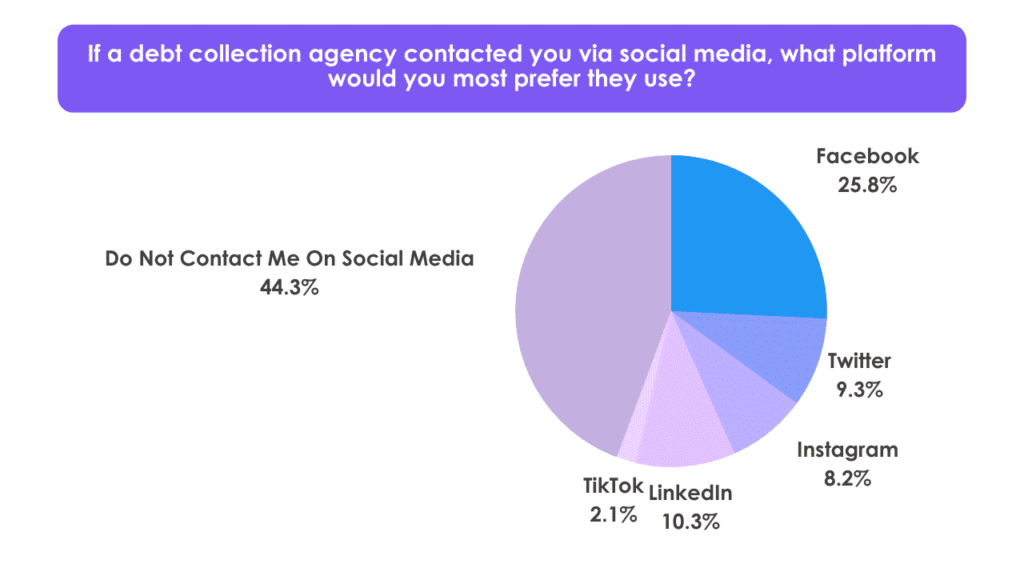 It seems that agencies have been dancing around the use of social media since Reg F gave the green light to use it.
Unsurprisingly, the pushback on this method of communication was swift. National headlines warned consumers that debt collection agencies would soon flood their DMs. A bill has already been introduced in New York State barring the use of social media, despite what Reg F says.
The results of our survey reflected all of this speculation – around 45 percent of consumers were explicit. They did not want to hear from collection agencies on social media.
However, around 25 percent of consumers said Facebook was okay.
And as for the 2 percent who said they preferred TikTok, we're wondering if there are any agencies out there who are ready to make their TikTok dance debut.🙂
Our Main Takeaway: Provide Options, But Don't Overthink It - More Channels Won't Translate To More Payments
Our take on this data: Don't put all your communication eggs in one channel's basket.
The most successful agencies will be the ones who are willing to experiment with different channels and adapt based on the results. So, you've taken in all of this data – what should you do right now?
Start tracking your behaviors and outcomes on each channel, and be diligent. If you are ready to start diversifying your channel outreach, be ready to track the performance of each channel diligently. After a month, reevaluate how you are using each channel, and how it is helping or hurting your liquidation rates.
Start with online presence, then make investments in new channels. If your online presence is nonexistent, or your reputation has gotten away from you, start there. If consumers are turned off by what they see when they Google you, adding in more channels may only escalate your troubles.
Make your messaging consistent. Invest in training to keep your agents consistent across all channels. If a consumer is hearing from you on multiple channels, make sure your tone of voice and message stays the same.
As always, we'd love to learn more about how your agency is communicating, what you have trouble with, and how we can help. Book time to chat with us below if you'd like to learn more about how and why we build our communication solutions.
This information does not, and is not intended to, constitute legal advice; and may not be used as legal advice. Instead, all information is for general informational purposes only.