How To Create A Website For Your Debt Collection Agency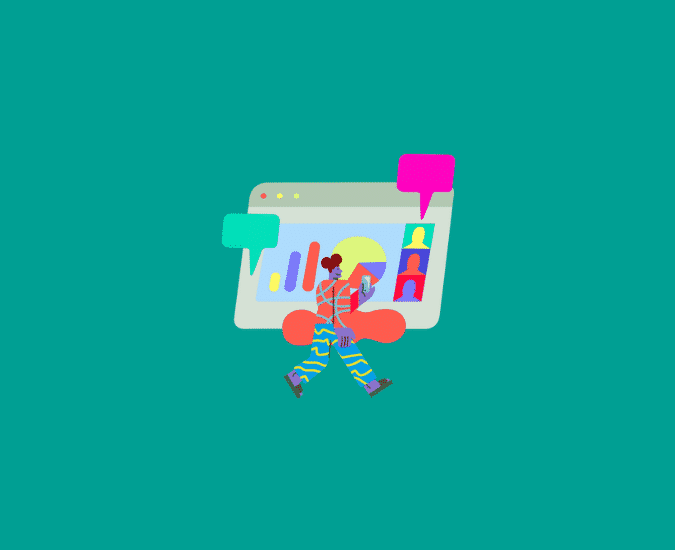 Start Making More Calls Today
Not sure which solution would be the best fit for your needs? We can work with you to find a solution that's right for your business.
get a free quote
We'd like to take this opportunity to say: We're so glad you clicked on this blog.
Because, if you did, it means you're ready to create a website for your debt collection agency. Maybe even for the first time.
This is an extremely important and exciting endeavor. We talk a lot about how important it is to be consumer-centric in your operations. Appealing to consumers in your business approach might seem like a scary leap to take, but we promise it's worth it.
Creating and promoting a website for your agency is a gigantic step towards, what we believe, is the future of debt collection. Meeting consumers where they want to be met, so that they can have a pleasant experience working with you, so that they are more likely to give you their money.
It all starts with a website. We'll walk you through the easiest places to get started creating a website, elements to include, and how to optimize it for the consumer experience.
And let us reiterate – we are so glad you're here. Use the table of content below to navigate to a specific topic.
Step One: Select a Website Builder And Hosting Provider
Step Two: What To Include On Your Website
Step One: Select A Website Builder And Hosting Provider
We have good news and bad news.
Bad news first: This is the trickiest step of the process.
But the good news it that once you've made these decisions, the hard part's over.
You have a few important decisions to make.
Should I Pay For A Website Builder, Or Use A Free One?
We turned to Top10.com to get their take on this. Here's what they said:
"Free website builders are excellent on a budget, but they typically don't allow you to connect your own domain. Also, you'll have to keep the company's ads on each webpage.
Paid builders are definitely an investment, but you get more storage, bandwidth, and tools. Also, you can use your own domain and get rid of those pesky ads."
Should I Combine A Website Builder And Hosting Provider?
If you are just starting out with a website, we recommend combining these services to keep things simple. It might cost a little bit more up front, but we promise it will makes things easier for you down the road.
Here are a non-comprehensive list of options for website builders that offer hosting:
If you're feeling overwhelmed, we totally get it. To help you narrow down your decision, here's what Top10.com said:
"All of the website builders featured [above] offer hosting services for your website, and most of them allow you to connect your own domain for a small fee. Squarespace is one of the few hosting providers that will give you a free domain when you sign up for a yearly contract.
That said, free website builders are ideal for testing the waters and having a ready-made platform to share with contacts and social media followers. And if you decide you're ready to implement more features, many companies offer easy and cost-efficient upgrades. With Wix, for example, you can choose from 4 premium upgrades that provide increasing amounts of bandwidth, storage, and access to analytics and marketing tools, thereby allowing you to scale up at a rate—and cost—that meets your website's needs."
Going the WordPress Route
We use WordPress for our website because it's the most customizable and accessible option for us. It's also the platform that 33% of all websites use, for a few reasons:
It's open source, meaning you can integrate it with almost anything (since we're talking specifically about debt collection, think payment processing.)
It's user friendly, and there are many WordPress forums where users share their tips, tricks and advice.
There is an endless amount of options for themes and plugins. (Meaning your design can be as simple or complex as you want.)
If you want to go the WordPress route, you will have to purchase a domain name and hosting provider separately. 
We use Dreamhost for this.
Some other options are HostPapa, Siteground, and GoDaddy.
Many of these sites have made it very easy to seamlessly integrate your domain, hosting and site. There's a lot of options to choose from, but there is no wrong choice.
Once you've made these choices, the hard part's over. Now comes the fun part – structuring the content on your website.
Step Two: What To Include On Your Website
Even if your website is only one single page, you're off to a great start.
Here's a few ideas to get the ball rolling on your debt collection website. We've broken these down into two categories: Need To Have, and Nice To Have.
Need To Have: Contact Information
The most important information on your website is contact information.
Include any channels that consumers can contact you (phone, email, office address, etc.) If you offer two-way texting, invite consumers to text you with questions.
Not only will this validate your company, but including your phone number on your website will help with Google searches of your phone number as well.
Need To Have: FAQ Section
Putting yourself in the consumer's shoes, what would give you the most comfort when researching a debt collection agency?
When consumers are researching debt collection agencies, they tend to be skeptical.
Williams & Fudge does a great job being proactive with their FAQ Page.
Answer questions that the consumer might have, like:
"Why is [your agency] calling me?"
"What if I don't recognize the debt [your agency] is calling about?"
We classified this as "Need To Have" because we believe this will have a massive impact on a consumer's likelihood to engage with you.
Need To Have: About Us Section
You don't have to include a picture of everyone on your team, or share your life story.
But you do need to give consumers a peek behind the curtain of your operation so they know you are real people who want to help.
You should also share some kind of mission or vision that your company was founded on, to further build trust between the consumer and your agency.
Debt Recovery Solutions of Ohio has a great About Us page to inspire your own.
Nice To Have: Payment Portal
According to an independent survey that we ran, more than 50% of consumers prefer to pay using a payment portal.
Many of the website builders and hosting providers that we mentioned above integrate easily with a payment portal.
Jotform created a great guide to setting up your own payment portal, including some options to payment processing gateways: Paypal, Stripe and Square are most popular.
You might be thinking – "I'm not a writer. Why would anyone want to read something I wrote?"
If you are interested in marketing your agency, it means your agency is likely established enough to make you an expert in many things. Here are some examples of topics you could probably write about in your sleep:
Tips for successful consumer interactions
How to manage a team
What KPIs to measure in collections
How to have difficult conversations
Most websites (including WordPress) make it extremely easy to regularly publish blog posts.
Nice To Have: Affiliations, Certifications and Recommendations
Has your agency won any awards lately? Do you belong to trade associations? Have you received a consumer compliment?
American Profit Recovery does a great job focusing on the positive impact their agency has made. Directly beneath their website's header, they include consumer compliments. They also include their affiliations in the footer of their website.
Step Three: How To Optimize Your Website
You've got the basics down, and if you stopped here, you'd still be doing amazing.
If you want to take it one step further, here are some ways to optimize your website so that you have the best possible chance at making a good first impression.
Optimizing Your Website's Header
Your website header is the first thing consumers will see when they visit any page on your
agency's website. Here's some great ways to optimize your header for user experience:
Office Phone Number
Include your agency's main office phone number. Give consumers the ability to click to call
on mobile by adding the following piece of code to the phone number:
<a href="Your Telephone Number">Your Telephone Number</a>
Additionally, be sure to specify that this phone number is for your agency's main office.
Note that consumers may receive calls from other numbers associated with your agency.
Make consumers aware of this to reduce confusion about why they may get a call from
another number.
Agency Name & Logo
Left-align your agency's name and logo in the header. Remember to reduce the size of
your agency's logo. Logos can have very large file sizes and thus you will need to reduce
them. This will ensure each page loads fast. If your site takes a long time to load, consumers will bounce off. Remember – we want to remove anything that might deter consumers from making a payment.
Here's how to do it:
01.Go to squoosh.app.
02.Upload your logo.
03.If your logo's file format is PNG and has a transparent background, select WebP
under "Compress." For all other file formats and PNGs without transparent
backgrounds, select MozJPEG.
04.Resize the logo to 675 x 550. If the logo is smaller, feel free to skip this step.
05.Click the button in the bottom right corner to download the resized logo.
Main Menu
The main menu on your agency's website should be easy to read and navigate. Use a font
size larger than your paragraph text and make the menu bar a different color than the
background. If the menu bar is dark, make sure the font color is light and vice versa. Doing
this will ensure that consumers can navigate your website.
Optimizing Your Website's Footer
The last thing consumers will see when scrolling to the bottom of any page is your footer.
Descriptive One-Liner
Knowing nothing about debt collection, would a stranger understand what you do when
visiting the website? That's where a descriptive one-liner comes in. Here's a template to
get you started:
"[Adjective(s) Describing Your Agency] [Primary Service Offered]"
Here's an example: "Compassionate & Effective Debt Recovery"
Mission Statement
Already have a mission statement? Great! If not, feel free to use the following template:
"[Agency Name] is a [Adjective Describing Your Agency] debt collection agency that [What Your Agency Does]. [More on What Your Agency Does] to [Your Agency's Purpose/Mission/Vision]."
Necessary Disclosures
Discuss with a lawyer disclosures, terms of service, or a privacy policy to include in your
footer.
Secondary Menu
The secondary menu in your footer should include only the top-level of your main menu.
This is because the footer menu is usually a simpler style than the main menu. For example, Arbeit includes the following top-level options in the footer menu:
Phone Number: Include your agency's main office phone number in the footer. It's best to make this click to call like the number in the header.
Address: Include your agency's full office address in the footer. You can also link this address to your business listing on Google Maps. To find the link, search your agency's name in Google Maps, click "share" on the listing, and then click "copy link." If photos of your building aren't on the website, but you have them on your listing, doing this will boost credibility with consumers.
Social Media Buttons: Include buttons linking to your agency's social media profiles. This builds credibility with consumers, especially if you're active on those profiles.
Optimizing Your Website's Homepage
The second most important part of your website is the homepage. This is what the
majority of traffic to your website will see first. Consumers should be able to understand
who you are and what you do by looking at the above the fold content.
Descriptive One-Liner
Remember that descriptive one-liner we wrote earlier? Make that the H1 tag on your
agency's homepage. This element should have a font size larger than the rest of the page
to stress its importance.
Types of Debt
Underneath the H1 tag, in smaller font size, list out the types of debt your agency collects.  Make this your H2 tag.
Call to Action Buttons
Ensure that these are above the fold on the homepage. They are a quick way for consumers and clients to get where they need to be on your website, without using the main menu. These should be prominent on the page and have a color that stands out from the background of the page.
Consumers
Link this call to action to a page with information for consumers you are contacting.
There are four elements that you'll want to include on this page:
Each phone number your agency uses to contact consumers.
Link to instructions for consumers who believe your agency is contacting them.
Discuss what the consumer should do next for each scenario (pay now, discuss a
payment plan, talk to a representative, validate a debt, dispute a debt, etc.)
Link to an online payment portal (if applicable).
Any free financial resources that could be helpful for consumers struggling with debt.
Clients
Link to a page with information for current and prospective clients. Try to keep this
information contained on this page to avoid confusing consumers.
Illustration or Stock Photo
Include a stock photo or illustration of a friendly individual using your agency's primary
communication channel (phone call, text, email, online chat, etc.). Set as either your
background above the fold or insert it to the right of your H1 tag, H2 tag, and call to action
buttons. In a positive light, show what consumers will experience when dealing with you. It
might make them more open to the idea of making a payment.
Find our favorite free stock photos and illustrations on Pexels and Pixabay.
Positive Testimonials
On the next section of your homepage, include positive testimonials from consumers. If
you don't have any, include an option to leave a review via your contact page form (we'll
go over this later). Have your collectors direct consumers with positive experiences to
leave a review.
Industry Associations
Are you a member of ACA International or any other industry associations? Is your agency
BBB accredited? Have you received any awards? If so, this next section on your homepage
is a good place to include those. This boosts your credibility with consumers AND clients.
Optimizing Your Website's About Us Page
Your about page is often the second most visited page on your website, next to the homepage. On this page, it's important to further clarify who your business is, what your business does, and the "why" behind it.
Descriptive One-Liner
Incorporate your descriptive one-liner into your agency's about page.
Beliefs
What beliefs guide your team? Think of answers to the following questions and add those
answers to your agency's about page.
What does my team believe about being in debt?
What does my team believe about consumers?
What does my team believe about getting out of debt?
What does my team believe about customer service?
What does my team believe about running a business?
Team Photo(s)
Include a photo of your team either in a group, on a zoom call, or with team members' photos stitched together. When consumers visit your about page, they want to learn more about your team and agency. This will impact whether they want to interact with you or make a payment. Seeing real human faces helps legitimize your agency and build trust with consumers.
Story
Your agency's story should answer the following questions:
What problem led you to start your collection agency?
What solution at your agency has been effective in solving that problem?
How & why has your agency evolved over time?
What is your agency's vision?
Having a story shows consumers that you're more than a business trying to make money. This increases the likelihood that they'll choose to interact with your agency.
Leadership Team
Include photos for each member of your leadership team on the about page. Include a short bio for each describing their experience, role, and interests. This adds a "human" element to your collection agency which will sit well with consumers.
Optimizing Your Website's Contact Page
Your contact page should house your agency's contact information. This page is as important as your about and home page!
Agency Name
Include the full name of your agency on the contact page.
Phone Number(s) & Email(s)
Include your main office phone number, email, and every phone number you use to call consumers. Consider the following format:
Main Line: [Your Agency's Primary Phone Number]
Associated Phone Numbers:
[Phone Number A]
[Phone Number B]
[Phone Number C]
Email: [Your Agency's Primary Email]
If you received a phone call or message from a number or email listed above, our agency has been
making attempts to contact you in order to recover an outstanding debt. Please email us, text us,
call us back on our Main Line, fill out the form on this page, or send a message via our online chat.
We'll provide more information on the debt amount, the name of the creditor, and your right to
validate the debt.
Descriptive One-Liner
Incorporate this on the contact page to emphasize who you are and what you do.
Contact Form
You can add the following fields to your contact page form:
First Name
Last Name
Communication Preferences (phone call, email, text, \etc. – select all that apply)
Phone Number
Email
Inquiry Type Dropdown (discuss the account, request validation, dispute a debt,
make a payment, etc.)
Question(s) or Concern(s)
This is a great tool for consumers to contact your agency in a non-direct fashion. They can
also share their communication preferences in a clear, documented way.
We Believe In You, And We're Here To Help
You're ready for this. We're cheering you on. We cannot wait to see the website that you build.
The great thing about websites is that it's always possible to edit anything, so remember: Done is better than perfect.
Finally, feel free to reach out if you want to show us what you've build or if you want to discuss how things are going. We'd love to hear from you.
This information does not, and is not intended to, constitute legal advice; and may not be used as legal advice. Instead, all information is for general informational purposes only.