How To Start Marketing Your Debt Collection Agency (Even If You Have Never Done It Before)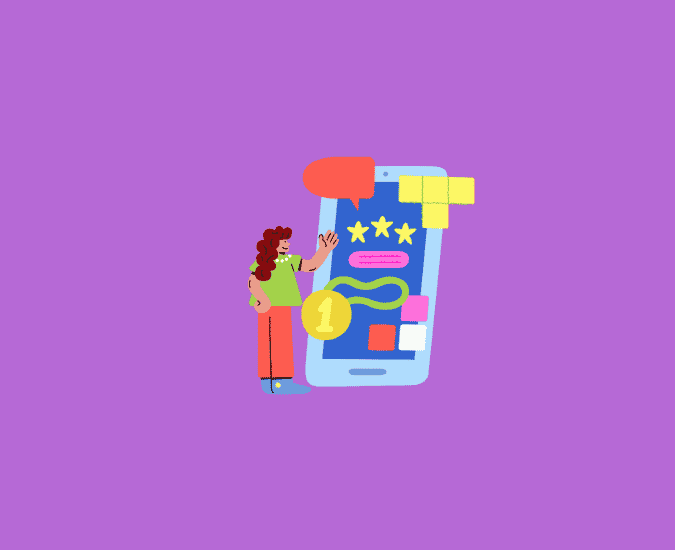 Start Making More Calls Today
Not sure which solution would be the best fit for your needs? We can work with you to find a solution that's right for your business.
get a free quote
There is a good chance the first time a consumer interacts with your agency, it will be online.
Why?
A consumer receives a call from your agency. They don't recognize the number.
All it takes is a quick Google search, and one of two things will happen:
Option 1: They see your agency's online presence in the search results, piece together why you called, and decide to return your call.
Option 2: The search results turn up results like 800 number websites, or attorneys who are trying to lure in consumers to file a lawsuit.
Option 1 is preferable, right? The best way to be proactive in your online presence is to invest in your marketing.
But it can be overwhelming, especially if you've never done it before, don't have a website and have a small team.
We're going to walk you through exactly how to start marketing your agency in three simple steps:
Step 1: Clearly Define Your Marketing Goals
Step 2: Define Your Brand Voice And Unique Selling Proposition
Step 3: Start With One Channel And Measure Your Results
No matter what your budget is, and even if you are the only person on your team who cares about it, you can start marketing your agency and take ownership over your online presence.
Step One: Clearly Define Your Marketing Goals
Marketing covers a lot of ground, and it can get overwhelming fast.
Before you start buying marketing software, signing up for social media accounts and launching ad campaigns, it's important to clearly define your goals around marketing. 
Marketing is a huge time investment, and it's easy to fall for "shiny object syndrome" – trying too many things at once because they are popular or trendy.
What's working for Doritos marketing team may not work for you. So, before you do anything, choose three goals that you want to start working towards, that you believe you can accomplish with marketing. 
Make these goals SMART:
Specific 
Measurable
Achievable
Relevant
Time bound
At Arbeit, we call our goals OKRs.
Here are some examples of marketing-driven goals you can set at your agency:
"Improve our online presence" This goal can be broken down into several measurable results. Decreasing the number of negative reviews, improving your company's Google search results, or decreasing complaints to the CFPB are some examples.
"Increase number of clients" The ultimate goal of marketing is to secure more business for your agency. Sometimes, the path that clients take to working with you is winding, and you might not know that they visited your website, your social media pages, your Google review section, etc. An increased number of clients may indicate that your marketing is working.
"Increase Consumer Callbacks" Another benefit to a strong online presence is the likelihood that consumers will be more likely to work with you. Consumers will feel more comfortable reaching out to your agency when they know the next steps to take – whether they find it on your website, social media pages or Google My Business page – and can easily see that you're a legitimate business.
Once you have established three goals for your marketing efforts, the next step is to define your brand voice and unique selling point.
Step Two: Define Your Brand Voice And Unique Selling Proposition
What makes your agency stand out? Why should creditors want to work with you?
This is what your marketing messaging has the ability to proactively communicate. 
A unique selling proposition, more commonly referred to as a USP, is the one thing that makes your business better than the competition. It's a specific benefit that makes your business stand out when compared to other businesses in your market.
Sit down with your leadership team (or, if you are the leadership team, sit down with yourself) and reflect on how you want to position your agency in the market.
If you are struggling with what position to take, ask yourself a few questions:
Are we focused on providing a consumer-centric experience, or are we dedicated to results over everything?
Do we experiment with new technology and innovation, or are we conservative in our approach?
Do we get involved in trade associations, or do we prefer to work independently?
In the end, your unique selling proposition should include the following information:
Who are you
What problem you solve for customers
Why is your solution unique
How will they benefit
To get your inspiration juices flowing, take a look at some examples of a unique selling proposition!
"By injecting technology and transparency into an industry that often lacks both, we're creating an insurance experience that is fast, affordable, and hassle-free." – Lemonade Insurance
WHY IT WORKS: Lemonade identifies why they are different, what it's like to work with them, and the problem they solve.
"We believe everyone's stories can and should be heard, so we're giving creators around the world—from first-time podcasters to pros—a powerful platform to share their voices." – Anchor by Spotify
WHY IT WORKS: Anchor shares the values behind their mission (everyone's stories should be heard,) and exactly how their product drives their value system.
"Canva is an online design and publishing tool with a mission to empower everyone in the world to design anything and publish anywhere." – Canva
WHY IT WORKS: Short and to the point, Canva communicates exactly what they do and how they do it.
Before you start marketing, it's critical that your messaging is consistent across channels. 
Defining your brand voice and unique selling proposition will act as the filter for the messaging and content that you promote in your marketing material.
Once you have decided how your agency is going to position yourself, it's time to start getting the word out!
Step Three: Start With One Channel (And Measure Your Results)
Like we talked about earlier, marketing can get overwhelming fast. We recommend that you start with one channel, and once you have seen movement towards your goal on that channel, slowly increase your impact across channels. The different channels at your disposal to get you started are:
Social Media
Blog
Sponsorships
Direct Mail
We'll walk you through the channels available and a few different ways you can kick things off and optimize your presence there.
If your agency has social media, these accounts can show up when a consumer searches your agency name.
If you aren't on social media, it's a great (and free) opportunity to boost your reputation and online presence!
It's also a great opportunity to position yourself based on your unique selling proposition you defined in Step 2.
We've compiled a few debt collection agencies who have taken steps to make social media a valuable channel.
Our Favorite Channel To Follow: LinkedIn
What We Love: American Profit Recovery has built an engaged audience by publishing and promoting the positive consumer feedback they receive. We also love how they feature the expertise of their team via a video series.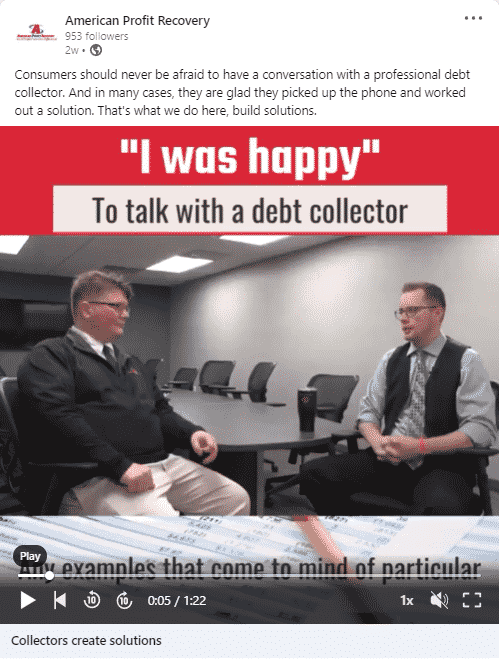 Our Favorite Channel To Follow: LinkedIn
What We Love: Williams & Fudge does a great job of marketing their culture and values on their social media accounts. They also market their involvement in the industry.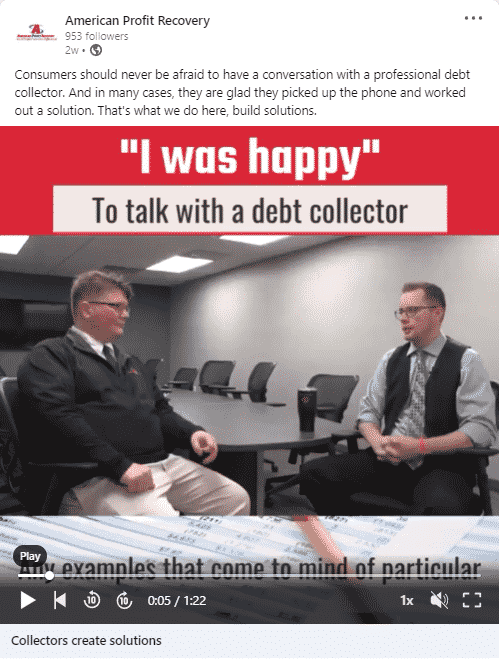 Debt Recovery Solutions of Ohio
Our Favorite Channel To Follow: LinkedIn
What We Love: DRS of Ohio does a great job of engaging their audience in fun ways. They also include testimonials from consumers with positive feedback, and celebrate their teammates regularly.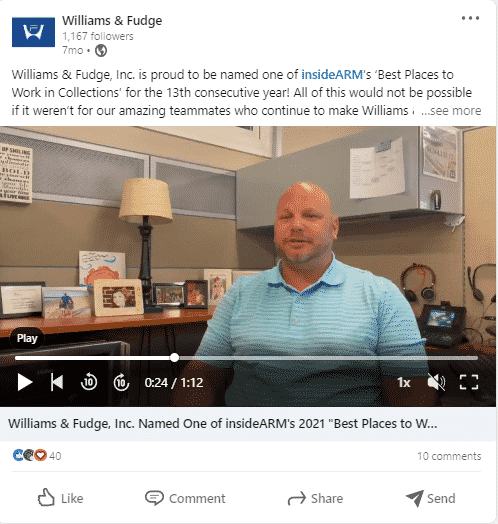 You might be thinking – "I'm not a writer. Why would anyone want to read something I wrote?"
If you are interested in marketing your agency, it means your agency is likely established enough to make you an expert in many things. Here are some examples of topics you could probably write about in your sleep:
Tips for successful consumer interactions
How to manage a team
What KPIs to measure in collections
"But what if I don't have a website?"
Even if you don't have a website, you can still become a thought leader in the industry by publishing blog-style content.
There are two main ways to do this without a website:
LinkedIn
Using LinkedIn, you can easily publish articles from your homepage. You can then share these articles in industry groups, establishing yourself and your agency as a thought leader and demonstrating credibility about your topics of expertise.
Medium
Anyone can sign up to write articles on Medium. There is no vetting process. Sign up to become a writer on Medium here. 
Once you've signed up, your blog-style content can be distributed anywhere.
Intentionally get involved in your community and your industry. Here are a few different ways you can use sponsorships as a way to get your business out into the world.
Trade Shows
We attend trade shows for a few reasons – to connect with our customer persona, to meet other vendors in the space, and to stay informed about what's going on in the industry.
There are many ways to naturally promote your brand at a trade show. It'll happen whether you sponsor a session, sponsor a conference meal, or simply exhibit and strategically promote your brand on the trade show floor.
Community Fundraisers
If you want to access your philanthropic side, look for fundraisers being held in your community that are seeking sponsorships. In the past, our company has sponsored an event called Spikes for Tykes. Our business name appears throughout the event's campus, and we opted to include a pair of our socks in the gift bag. It's an easy and fun way to get your name "out there."
Community Events
Join a bar league! Join your local chamber of commerce! Host a pop-up shop! Host a lecture! Get creative but remember to keep your audience and customer in mind. Stay true to your unique selling proposition and brand voice.

Not all marketing has to be digital. We believe there is still a lot of value in good, old-fashioned snail mail.
At Arbeit, we send out all kinds of "swag" to clients, prospects, and friends.
As long as you have the resources, direct mail is a great way to have a tangible impact on your audience – as long as you can make the piece of mail stand out, and it adds value to the recipient.
Be Patient - Marketing Is A Long Game
In marketing, there is something called the Eight Times Rule.
You don't have to spend a lot of money on each mode of communication, but you must repeat your message up to eight times to gain prospect awareness.
Be patient and be intentional with your marketing. Assemble a team you trust, and make sure every one of your marketing efforts is aligned with your unique selling proposition. When you first start out, it's understandable that your marketing efforts may not be your first priority. But as you grow, marketing can be a way to exponentially increase your traffic and brand recognition.
This information does not, and is not intended to, constitute legal advice; and may not be used as legal advice. Instead, all information is for general informational purposes only.