How to Protect Your Agency from "The Great Resignation"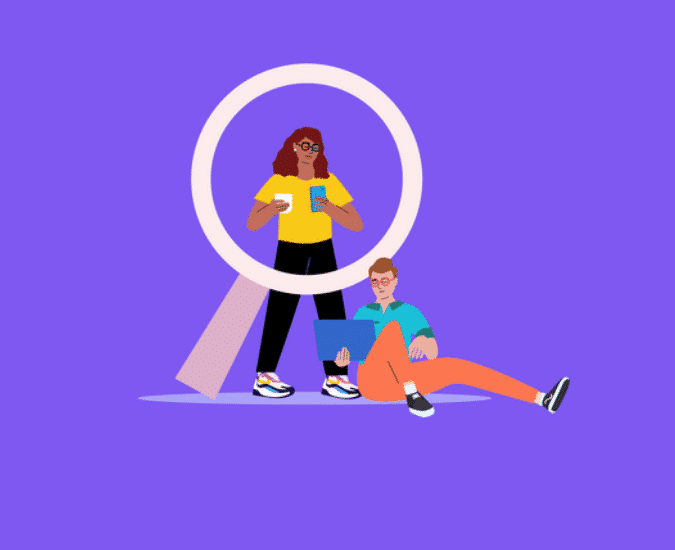 Start Making More Calls Today
Not sure which solution would be the best fit for your needs? We can work with you to find a solution that's right for your business.
get a free quote
Ready or not, employees are looking for meaning and value in their work. We spoke to debt collection industry experts to learn 3 ways to prepare.
Why should you care about "The Great Resignation?"
According to Harvard Business Review, resignations peaked in April and have remained abnormally high for the last several months. A record-breaking 10.9 million jobs opened up at the end of July.
The pandemic changed our relationships with our jobs.
In an industry like debt collection that already struggles to hire, this is especially relevant. Luckily, four industry thought leaders sat down with us to offer their expertise on what "employee engagement" really means.
Ashley Campanella, Ken Peck, Bethany Robertson and Kim Atwell covered three ways to contribute to meaningful retention:
The power of employee recognition and team bonding
The power of professional development and employee investment
The power of software that sets up your agents to be successful
TL;DR: Your employees want to know and experience a culture that values them – not just as bodies filling a seat, but as real people with unique skills. Find out what motivates them, invest in their growth, and empower them to be successful.
How have employee expectations shifted since the pandemic? (5:00)
Employees Expect Flexibility
"We're in a time in history where it's more challenging to find people who genuinely appreciate having employment," said Ken Peck, SVP of Operations at Valor Intelligent Processing.
And for those who do, organizations have had to remain highly adaptable. For many, the biggest one that comes to mind is remote work. and employees have "reasonable although heightened" expectations surrounding the flexibility that their employer offers.
"There's a great expectation of work and home life balance due to everything that's going on outside of work and in the culture," said Bethany Robertson, Vice President of Debt Recovery Solutions of Ohio.
Employees Expect Communication
In addition to a flexible work schedule, employees are looking for leadership who is transparent and vulnerable about what is expected of them, and what they can expect from their employer in return.
1. How Can Employee Engagement Protect You from "The Great Resignation?"
Does your employee's happiness really matter? (9:05)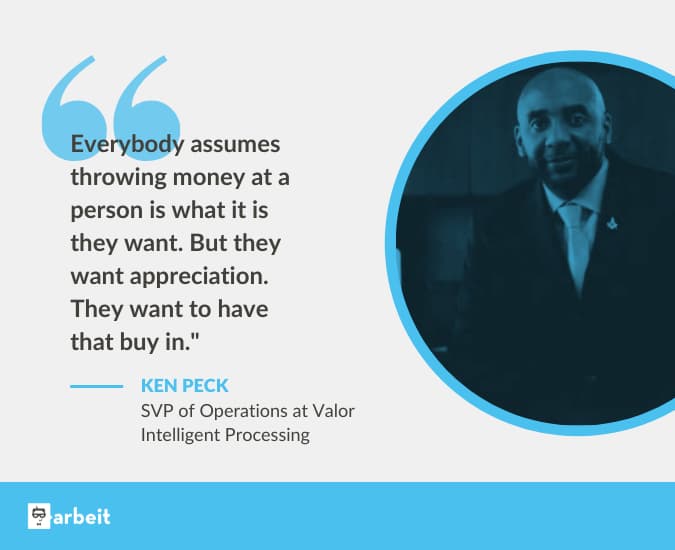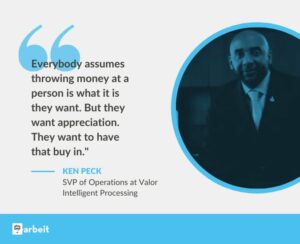 "Everybody assumes throwing money at a person is what it is they want," said Ken. "They want appreciation. They want to have that buy in."
Employees can only be successful if they care. Their participation in human activities- for Ken's team, this looks like dance-offs, power hours, and recognition on social media – can give you a barometer of how invested they are in your culture and success.
Staying upbeat in an industry that is notoriously stressful will give your agents the feeling of buy-in, and the confirmation that their success matters.
It will also allow you the opportunity to get to know your team on a more human level, and understand what their work life is like.
As Ken puts it: "I'm not talking at them, I'm talking with them."
Slowly but surely, Ken has seen his team come out of their shell when he engrains these activities into his culture. 
Do employee engagement activities take away from revenue-generating activites? (12:23)
Ken explains how a stressful environment like a call center can quickly deflate your team's engagement levels.
"It's not many call centers where [agents] get more 'yes'-es than 'no's," as he puts it.
"Taking their mind off the grind" might temporarily suspend phone calls. But this opportunity to recharge and reset has two key benefits:
It gives employees "a shot in the arm" of motivation to re-engage with their work
It creates evangelists for your company. Your employees will become spokespeople for the positive culture you embody and word about your organization will spread. This will only lead to greater visibility, and in turn, revenue.
2. How Does Offering Professional Development Protect You from "The Great Resignation?"
What is the impact of offering professional development on retention and engagement? (15:45)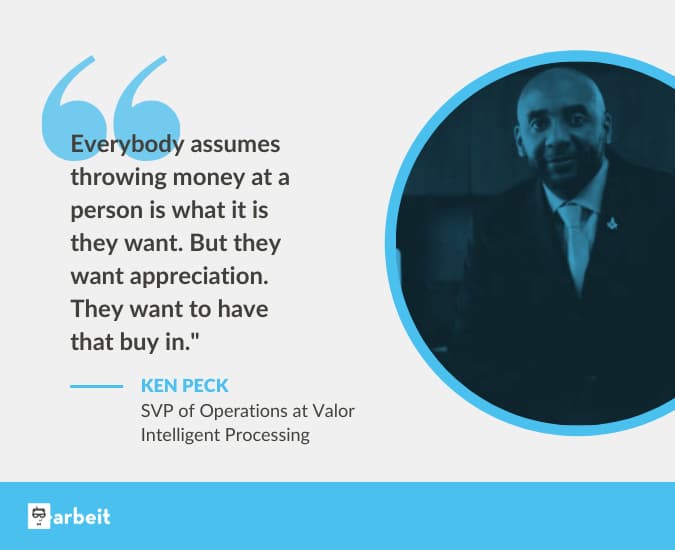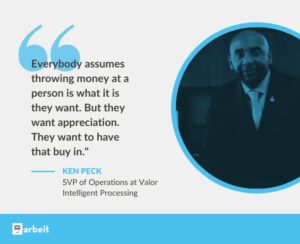 "Right now, it seems like every company out there is hiring. But do they show their potential employees that they're more than just a body to fill a position?"
Kim Atwell shares that at DRS of Ohio, they used to have a retention problem. When they shifted their practices to creating a stronger and more capable team via professional development, it led to almost no turnover.
"[Agents] want to come to work when they know they're valued and we've invested in professional development," says Kim.
DRS created something called a Professional Growth Achievement Plan (PGA) that includes:
Quarterly one-on-one meetings with leadership to discuss their professional growth goals
Writing down their long-term goals
A discussion about what they're learning, what they want to learn, and what DRS of Ohio can do to help
As Bethany and Kim attest to, sometimes forcing someone out of their comfort zone can be painful, but it will lead to a more well-rounded and confident team in the end.
In addition to the growth of the team members, Bethany explains how it also opens up the door for more vulnerability in their one-on-one conversations. She shares her own personal goals and the conversation creates a sense of shared accountability, which their team has responded well to.
If there is no guarantee my employees will stay at my company, why should I invest in them? (21:25)
"Stop hesitating. If you're investing in yourself, why would you withhold that from your employees?" says Bethany.
3. How Does the Right (or Wrong) Software Protect Your Agency from "The Great Resignation?"
How can the wrong software impact an employee's ability to stay engaged or feel valued? (22:19)
"Technology is making a huge presence in all industries right now," Ashley explains.
The rise of remote and hybrid work models has led to a big change within organizations. Not just culturally, but operationally.
But as Ashley explains, big changes can lead to pushback from your employees, sometimes especially your tenured employees.
Enforcing big changes can lead to employees feeling isolated and disengaged. Especially if the change involves software that is complicated, difficult to understand, and requires a long onboarding period where employees cannot successfully do their jobs.
When a narrative from leadership is: "This is the product you're going to use, so learn how to use it," this can lead to deep-seeded frustration from the team.
Ashley suggests three main solutions to this:
Do adequate research into a product before you purchase it. Flashy features  may not actually affect outcomes. 
Whenever possible, trial a software before your purchase it and collect employee feedback along the way. 
Be sure that ongoing training is available from the vendor so that your team has access to support whenever they might need it. 
What is the difference that software can make on a team's productivity and engagement levels? (25:10)
"The biggest thing I see when onboarding clients is that people like easy to use, simple products."
Ashley explains that software that comes with a lot of bells and whistles might seem like the most exciting, cutting edge option, but often becomes an afterthought when it comes to actually increasing your operational efficiency.
Especially when it comes to debt collection – your agents shouldn't have to navigate between multiple softwares in order to notate accounts or to contact consumers. As Ashley explains – they should be able to do their job.
We believe the most important features that you should look for in your software are:
Quick and efficient onboarding
Straightforward interface
Reliable (little to no downtime)
(Shameless plug: We can't help but say that all of our products are all of these things. We hear from clients who onboard with us how painless the onboarding process was, and how easy it was for their employees to learn how to use it. Click here to learn more about our Broadcast Dialer, TCPA Compliant Manual Dialing Solution and our VoIP Business Phone System.)
What can you start doing today to prepare your agency for, and protect from, The Great Resignation? (29:00)
Take action to see that your current employees are being valued – don't focus all your energy on projecting a culture (that might not even exist) to prospective candidates. Your best bet for new employees often comes from current employee word of mouth.
Find out what motivates your employees. Conduct surveys, have one-on-one conversations, and make sure that those surveys and conversations lead to action.
Start investing money and time into getting to know your employees long-term goals. Be transparent in giving them a bigger purpose for the work they are doing.
Create personal development plans for your employees and hold them accountable to it.
Recognize your employees accomplishments regularly and publicly.
Bethany Robertson
Bethany is the Vice President, co-owner, and founder of Debt Recovery Solutions of Ohio, Inc. since 2002 where her vision and passion for strategy continues to push the company to new heights. Bethany earned her BA in Business Administration from Mt Vernon Nazarene University in Mt Vernon, Ohio while simultaneously running her own collection agency. Her passions include her love of God and family – especially her two children, Jake and Magey. She is also dedicated to inspiring others to reach their potential and constantly working on being a better version of herself.
Kimberly Atwell
Kim is the Client Care Manager and has been with the company for over 13 years. Kim started out as a collector and eventually transitioned to a much more suitable role handling clients needs. Kim is also involved in the marketing side of the business and works closely with Bethany. In her free time, Kim and her husband do hiking trail maintenance for a local State Park. They also have an old Airstream that they take camping every chance they get.
Ken Peck
Kenneth has over 23 years of experience in credit, collections, sales, and call center industry on the 1st and 3rd party side. He has direct knowledge of managing municipal debt, utilities, medical, student loans, cable, telco, dormant judgments, PDL, and tolling. He has demonstrated a record of exceeding profitability goals, turning around underperforming units, driving in increased revenues for clients. He prides himself on developing both men and women to become not just professionals but future leaders.
Ashley Campanella
Ashley is the Customer Success Manager at Arbeit, handling the relationship between our clients & products and setting them up to be as successful as possible. She was the first woman to be hired at Arbeit 5 years ago, starting as administrative assistant and eventually moving into her current role. Her passions include her two cats Elroy and Tolkein, working out, and helping agencies change the negative stigma around debt collection by helping them have more pleasant conversations with consumers using software.