Sales Training Techniques Using Call Recordings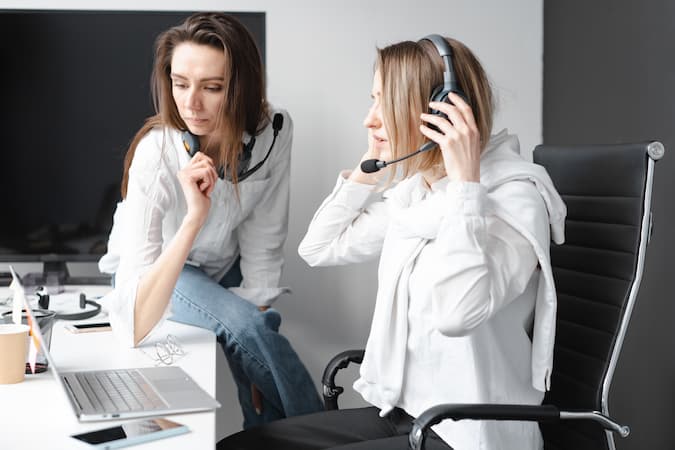 Start Making More Calls Today
Not sure which solution would be the best fit for your needs? We can work with you to find a solution that's right for your business.
get a free quote
Frequent on the job training is especially important for sales teams. Roleplay exercises are great for incorporating into initial training, but they don't cover every scenario. Jason Pearl and Mike Belin of Nacre Consulting discuss the importance of using call recordings in sales and the different training techniques that go along with that.
Importance of Call Recordings in Sales [3:40]
Capture Live Interactions
Call recordings capture the real conversations your sales reps are having, as opposed to roleplay where interactions are more orchestrated. From a sales manager's perspective, call recordings are an extraordinary tool. It allows you to provide the right type of feedback because that feedback is based on a live interaction between a sales rep and a prospect.
Interactions that take place during roleplay can be completely different than the conversations sales reps are having on actual calls. This is where call recordings come into play.
Verify Customer Experience
"You as a leader, business owner or executive of your company want to ensure that not only are sales being made, but that they're being made the right way," Jason emphasizes.
When you listen to call recordings, you can identify which of your reps are skilled in closing sales, but aren't closing in the way you'd like them to close. Making money is just as important as maintaining good brand equity with an honest and ethical sales team.
It is your job as a sales leader to ensure that sales reps adhere to company standards, because making money isn't worth the cost of a bad reputation. Remember that salespeople are often referred to as "the gateway to the company," as Jason says.
The bottom line is that by listening to call recordings you can verify the positive or negative experiences prospects are having with your company.
Sales Coaching & Training
What questions are prospects asking? How are sales reps handling objections? Call recordings provide the answers to these questions so that you can then build a playbook of how to handle similar conversations more effectively. This is a great way to build a culture of excellence.
From a liability perspective, being able to reference call recordings just makes sense.
Use Cases for Call Recordings in Sales [8:35]
Call recordings should be used as more than just a quality assurance tool, because as a sales leader it is YOUR responsibility to develop your reps.
Identify Areas of Strength & Opportunity
Listening to call recordings is a great way to identify the strengths and weaknesses of each of your sales reps. Once you identify these, you can coach up their weaknesses and praise their strengths. We've all heard it a million times – practice makes perfect. And this holds true in sales. When your reps listen to their calls repeatedly, you'll be able to uncover patterns together. Those patterns will serve as solid feedback that your sales reps can use to improve.
Improve Performance & Results
Using call recordings in sales is not just a matter of developing your team members in their current role, but also determining whether they might be more successful in a different role. When you're able to identify patterns in the conversations each rep is having with prospects, you may find that they'd be better suited for another role at your company. Having people in the right roles based on their strengths and weaknesses improves performance and results.
Curate a Library of Best Practices
Not only can you uncover patterns in a single sales rep, but you can also uncover patterns across your entire team. For example, you might notice that each of your sales reps are having difficulty handling a certain type of objection from a customer. In this scenario, you'd want to focus on developing your entire team in that area and curate a library of best practices for that scenario. If you notice an outlier on your team that's handling that specific scenario particularly well, you can use their handling of the scenario to inform the best practices you train your other reps on.
If you decide to listen to call recordings on a daily basis and find that your rep missed a portion of the sales process on a call that day, they may have an opportunity to reach back out to the prospect and resurrect the sale. Doing this could bring immediate monetary results.
Learn Directly From Your Customers
As a sales leader, you will learn something about your customers and prospects from each call recording you listen to. If you decide to do nothing else, this fact alone makes utilizing call recordings worth it.
By providing sales reps with examples of actual call recordings – good and bad – managers can provide specific feedback to help them learn and improve.
Feedback Techniques Using Call Recordings [13:45]
The first thing to note Jason says, is that "it's really important to balance consistency with both praise and opportunities for improvement."
The last thing you want to do is bombard your sales reps with solely negative feedback. If you do this, they'll only feel attacked and become disengaged.
When you coach your sales reps using call recordings, you'll want to use the following:
Examples of their strengths
Examples of improvement
What you don't want to hear them do on another call
Mike says to focus on showing the rep "how to replicate more of the good while eliminating more of the bad."
Technique #1: Conduct Frequent Reviews
1-2 hours per week, per rep outside of your 1:1 meetings. And that includes both listening to calls and reviewing them. Sound like too much? As a sales manager, your primary responsibility is to coach, grow, develop, and improve your sales team. You'll need to dedicate a good chunk of your time to do that effectively!
Technique #2: Use a Sales Call Evaluation Template
The template below will guide you as you listen to each sales call.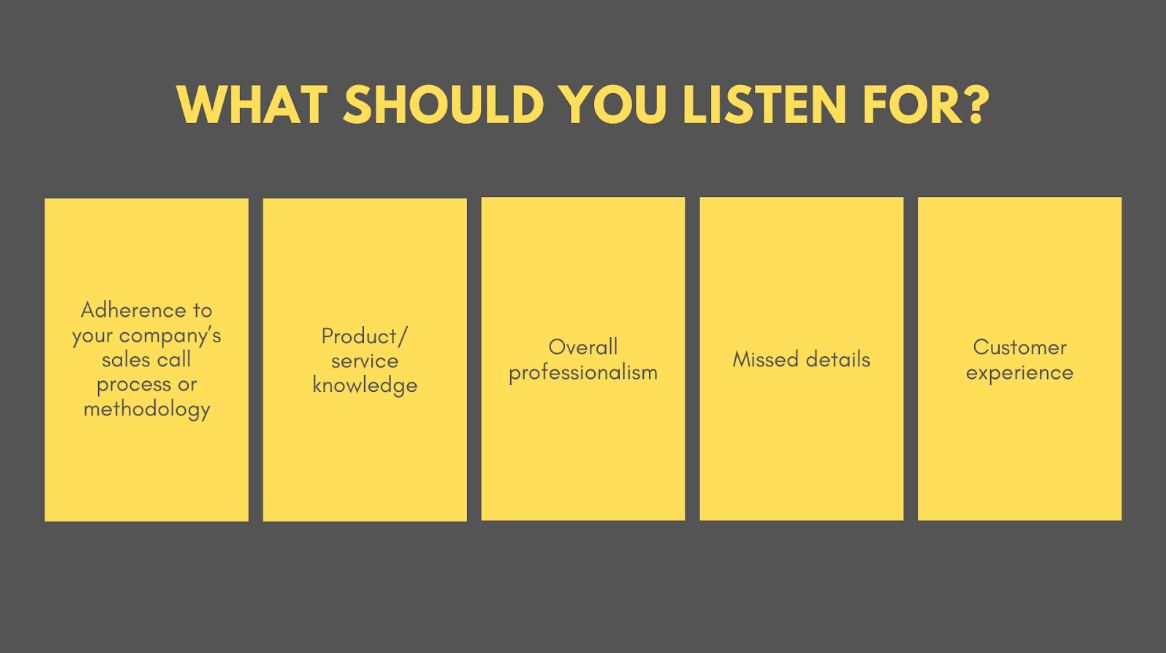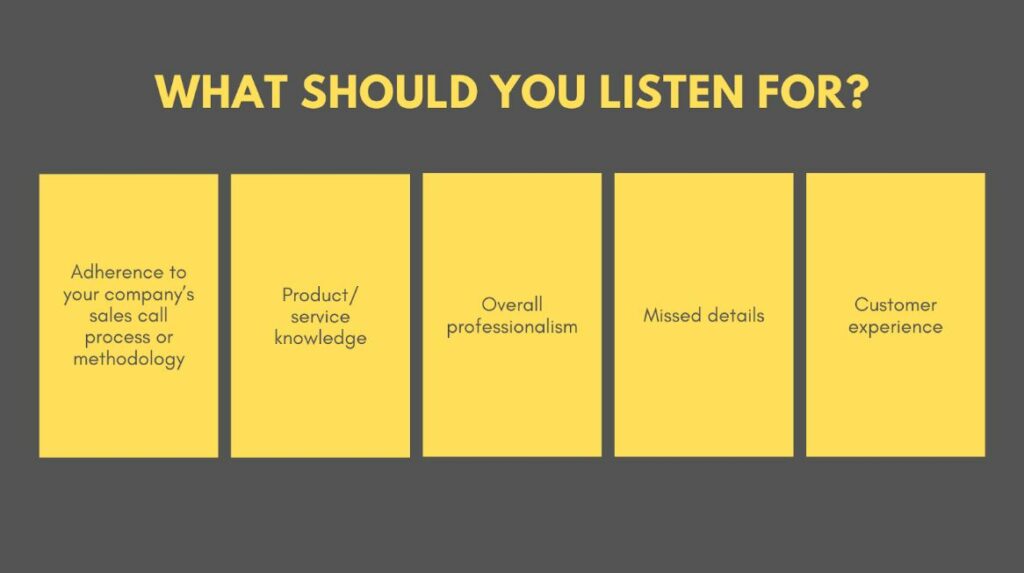 Adherence to Your Company's Sales Call Process or Methodology
Is the sales rep…
Following the company's overall sales process and methodology?
Taking the prospect on the path to purchase from their initial contact through the post purchase follow-up?
Product/Service Knowledge
Does the sales rep…
Appear to know what they're talking about?
Demonstrate their product/service knowledge?
Show how your product/service will effectively help the prospect solve a pain point? How clearly is that explained?
Is the sales rep…
Conducting themselves professionally?
Maintaining a positive attitude throughout the conversation?
After listening to the call recording…
Was anything missed by the sales rep that could ultimately affect the sale?
Did the sales rep…
Answer all of the prospects questions thoroughly?
Did the prospect appear to be engaged during the conversation?
Practice active listening?
5 Tips for Managers Recording Sales Calls [20:00]
Listen to several calls to uncover tendencies or patterns of behavior
Remove bias and subjectivity when evaluating or scoring calls
Be constructive, but honest and direct with feedback
Focus on one or two aspects of the call at a time ie. voice messages, call openings, transition statements, and discovery questions
Solicit feedback from your sales reps by asking questions ie. what did you think about those first 3-4 discovery questions, how effective do you think you were in uncovering your prospect's key pain points
5 Tips for Sales Reps Being Recorded [25:10]
Don't be surprised if call recordings are an understood part of the training
Know that everyone cringes at the sound of hearing their own recorded voice
Understand that the call recordings are being used as a tool to help YOU succeed
As time passes, you will begin to crave feedback on your sales calls
Remember the football analogy – you should want to review calls with your manager for the same reason that football players and coaches review the film the day after the game
If you were unable to attend the live webinar or have additional questions, do not hesitate to send send Jason & Mike an e-mail! Their contact information is listed in the section below 👇